You can keep costs at home to a minimum but still have fun and look great. It's a cool trend plenty of Aussies are embracing as cost of living bites.
There has been a surge in upcycling over the past year as Aussies battling a cost-of-living crisis look for affordable yet stylish ways to deck their homes.
A recent survey from Bunnings shows 78 per cent of Australians are upcycling preloved items, up 20 per cent year on year.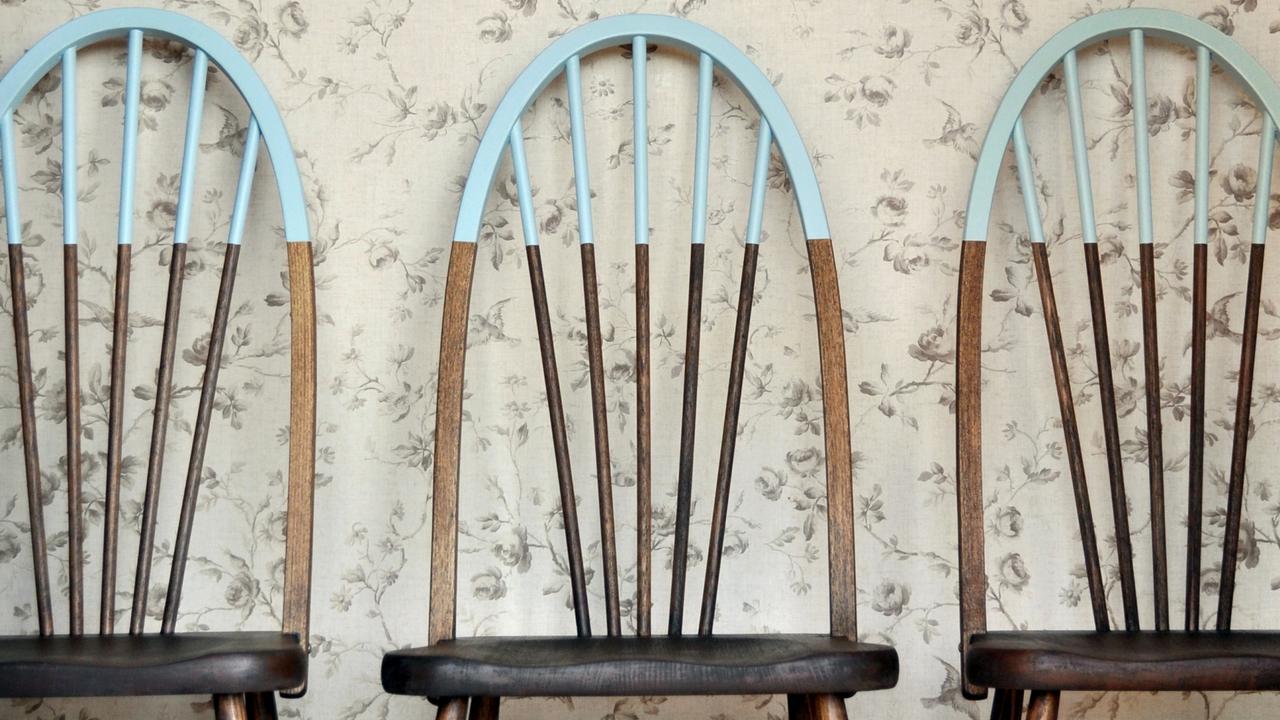 Upcycling can be as simple as repainting with quirky effect. Picture: Kristine Franklin
UPCYCLING: WHAT YOU NEED TO KNOW
Bunnings Workshop D.I.Y. expert Mitch Mclean says it's not just affordability and sustainability that are driving more people to upcycle.
"Our research found the majority of Aussies who upcycle (61 per cent) are doing so for the sense of achievement that comes from completing a project," he says.
Director and founder of Vault Interiors Justine Wilson says the thrill of finding a bargain also appeals.
"Generally speaking, you will be able to find bargains as they are second hand, and not everyone has the vision or know-how to upcycle and reinvent pieces," she says. "So if you're on a budget – it's a great way to keep the cost low but still create a beautiful home."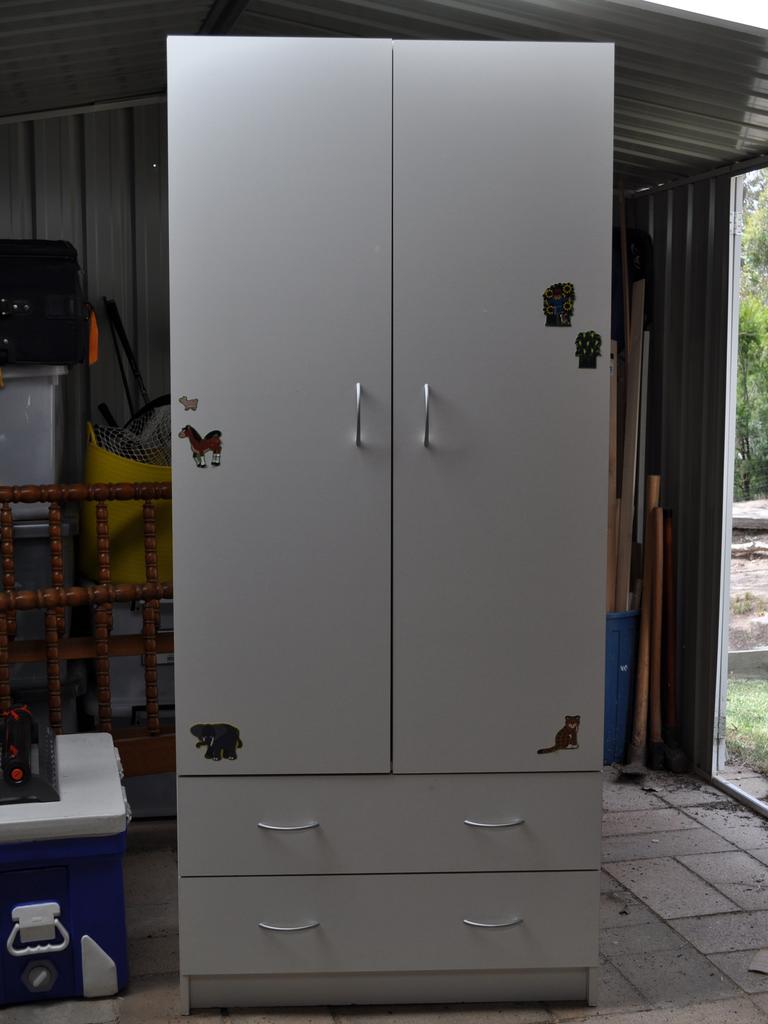 Upcycler Kristine Franklin transformed an old white wardrobe to look like …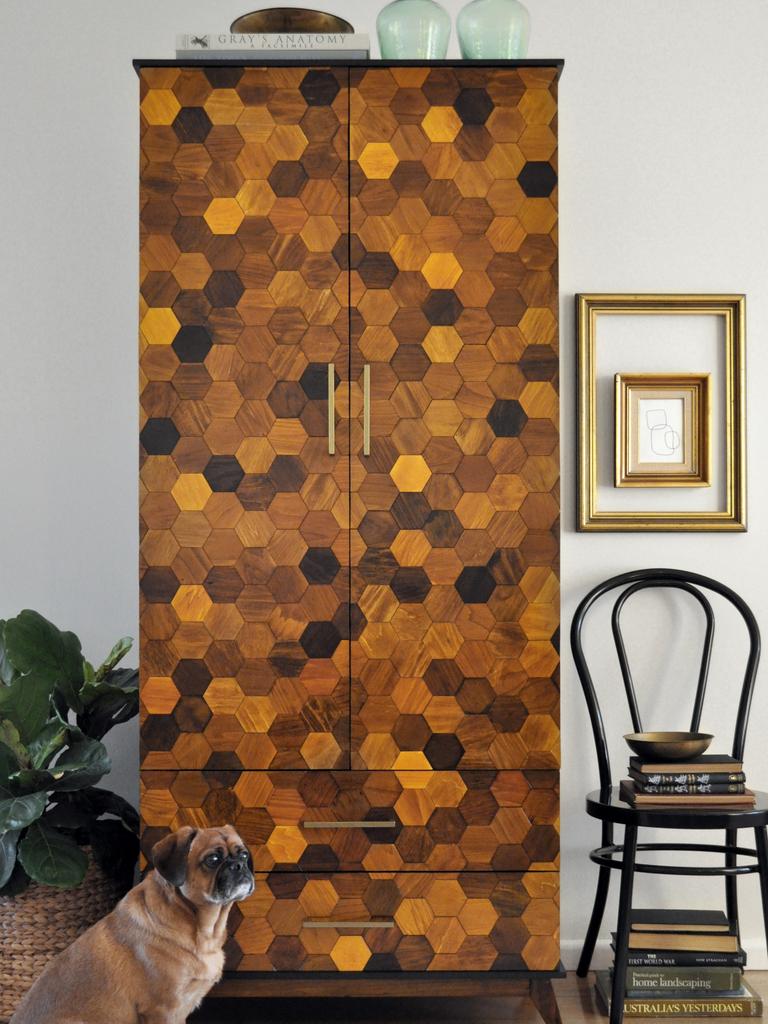 … a striking contemporary piece. Picture: Kristine Franklin
WHERE TO LOOK
Mclean says op shops like the Salvos Stores and local hard rubbish collections are a great place to find a bargain or even a freebie.
"When it comes to upcycling, you don't have to be limited by furniture or decor already in your home," he says.
Items can also be picked up cheaply from garage sales and online forums like Gumtree or Marketplace, says Wilson.
It helps if you are handy at a few trades.
BEFORE YOU START
Prolific upcycler Kristine Franklin from The Painted Hive says scale and safety are two important factors to keep in mind before taking on a DIY project for the first time.
"Start with something small," she says. "Don't go out and buy a massive 14 piece dining set."
She says some old items could have lead-based paint or other dangerous materials that you should either avoid or protect yourself from using the right safety gear.
Wilson says transport and having the right tools on hand are other things to think about, as are the limitations of the piece itself.
A cot can be upcycled into a small couch. Picture: Bunnings / Belinda Merrie
"The design of the pieces, and the age, should be considered before you embark," she says. "Be sure it will take the refinishing process you select or be sturdy enough to work with – any structural issues need to be fixed first."
"Some antique or mid-century modern pieces are made of laminate or have layers of poly or varnish on them, so be sure to either strip them first, or prime the pieces before painting or your paint will peel off."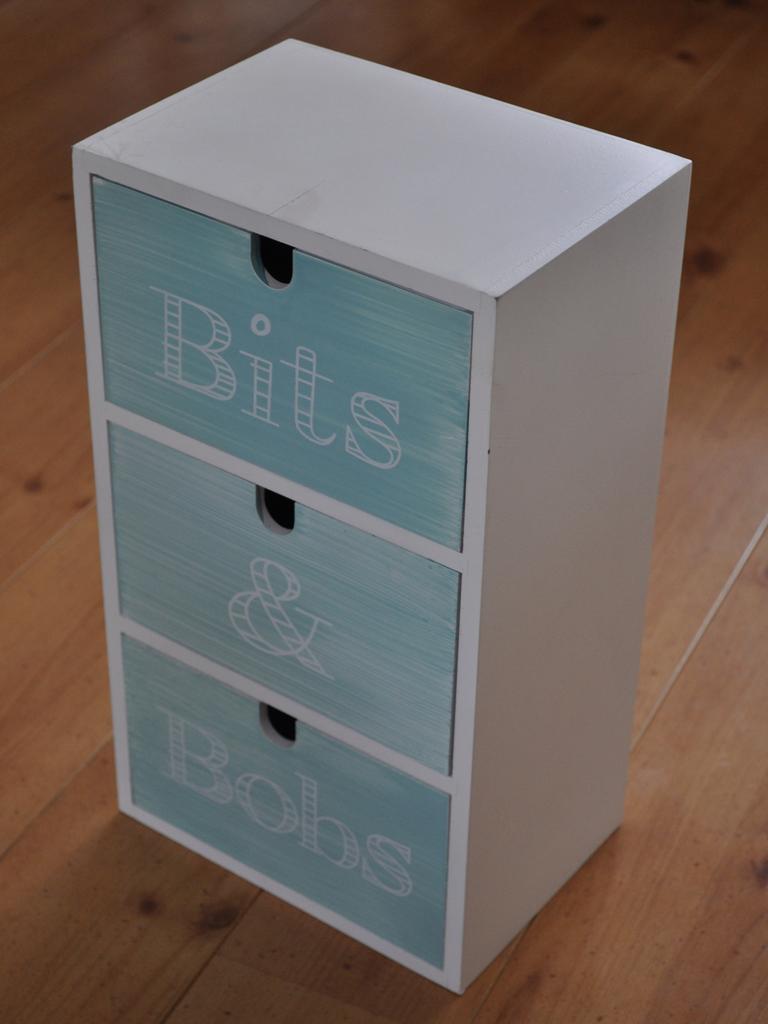 Kristine Franklin transformed a set of mini-drawers purchased from Kmart …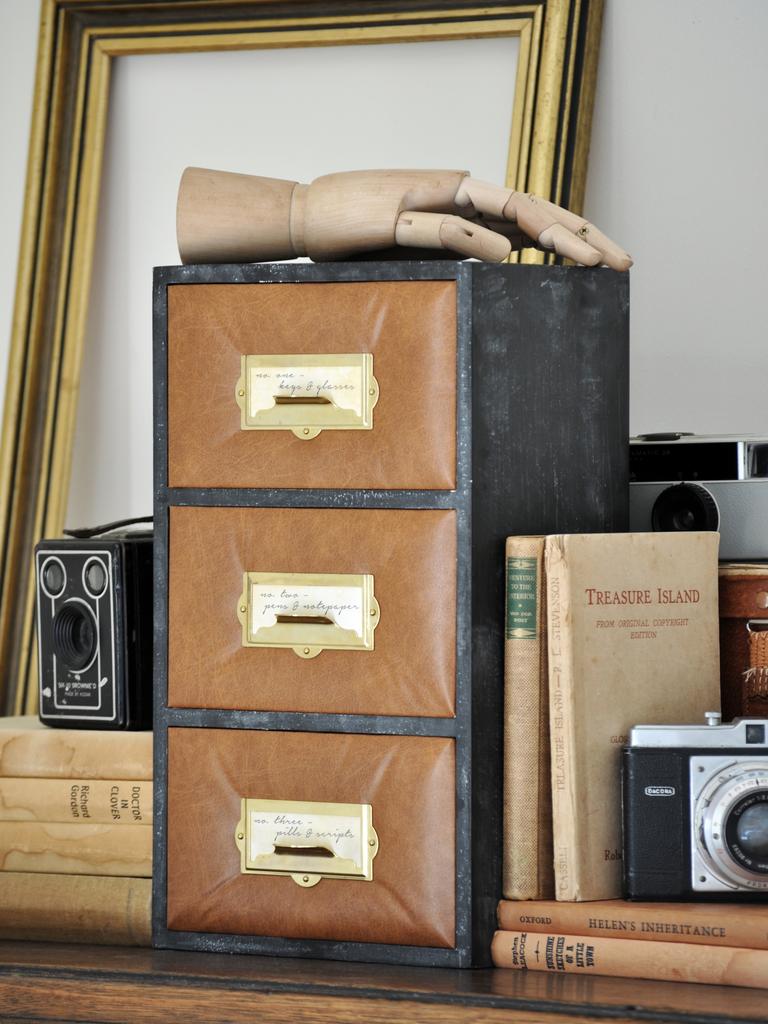 … using contact paper to make it look like an antique piece. Picture: Kristine Franklin
CHEAP AND EASY PROJECTS
Repainting an item is the cheapest and easiest way to get started, says Franklin. She began her upcycling journey 15 years ago by picking up sample cans of paint and other people's leftovers.
"I was using whatever I could get my hands on – and it was free," she says.
Another cheap option is to add new handles to old cabinets, which has the power to transform the style of the whole piece, she says.
TV cabinet upcycled into a kids lemonade stand. Picture: Shannon Welch
Upholstery is another cheap hack that is easier than you think, says Wilson.
"A quick visit to a fabric shop, and armed with a staple gun, you can uplift tired chairs, headboards or ottomans for a fraction of the cost of buying brand new tailored items," she says.
Mclean says focusing on small household items is a cost-effective way to get started.
"Items such as large plant pots make great side tables when flipped upside down and painted in a new colour," he says. "A dated vase can be upcycled into a more stylish and modern version with some textured paint and old storage crates can be turned into garden beds."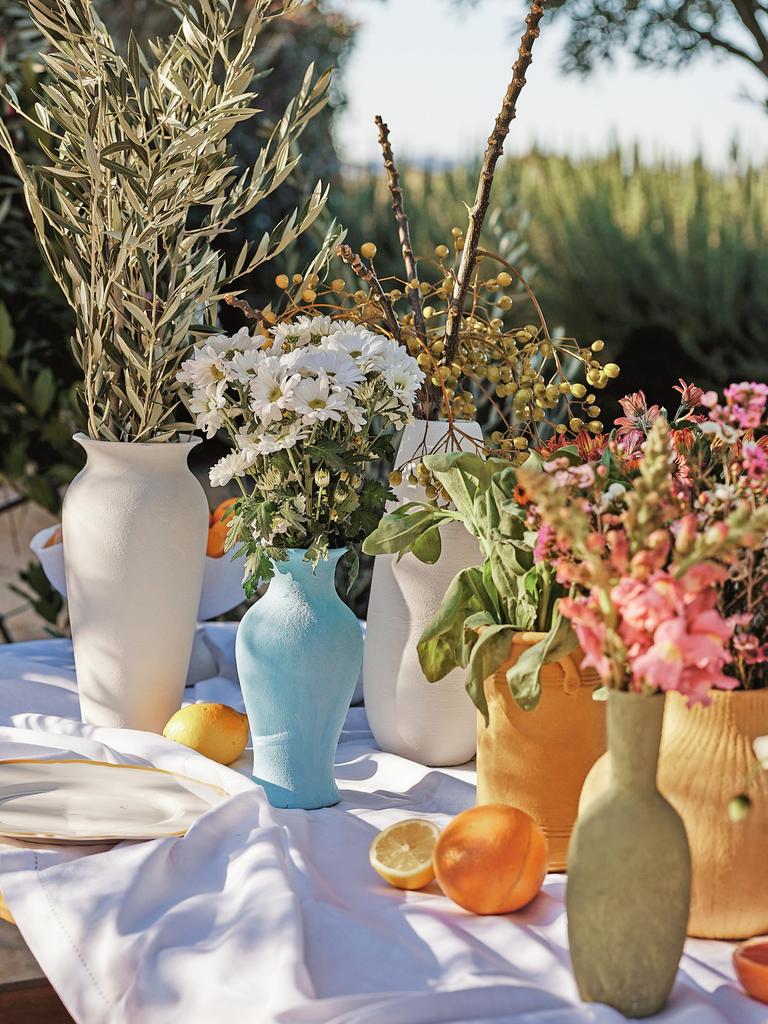 Old vases can be spruced up with paint. Picture: Bunnings / Alex Reinders
TAKING IT NEXT LEVEL
Those who have caught the bug can take their upcycling skills to the next level with a few powertools and some DIY know-how, says Mclean.
You could add legs to an old surfboard or door for a unique table or turn open shelves into a cabinet.
"Simply sand back and repaint your shelves, then use a drill to add some hinged doors and new handles."
Wilson says wallpapering the back panels of a bookcase or the feature panels of a dresser is a great way to "lift" an old item.
The before shot of Kristine Franklin's Tribal stencilled sideboard as featured on The Painted Hive site. Picture: Kristine Franklin
The finished product makes for a dramatic change. Picture: Kristine Franklin
"You could also use peel and stick vinyl," she says. "The same goes with peel and stick tiles, which can create a great splashback on a vintage bar or even a desk, or be used as a new countertop surface on a table."
Franklin says whole items of furniture can be repurposed with a little creative thinking.
"You could start with something like an old cot and turn it into a bench seat," she says. "I've also seen a lot of old TV units turned into a kid's play kitchen or storage cabinet."
She has transformed a broken mid-century cabinet purchased for $5 into a contemporary sideboard by building new doors and panels and stencilling a tribal motif on the front. She also used faux leather contact paper to give a Kmart set of mini-drawers an antique feel.
Originally published as Cost of living trend Aussies are loving