Whether you've just nestled your foot onto the property ladder or it's been firmly wedged there for some time, buying art for your personal space is an exciting experience that undoubtedly makes a house a home. The choice can be overwhelming at times, but with a little expert insight and these five golden rules to follow, you can be sure to find that perfect piece – and make its discovery a memorable moment.
Rule #1: Love your art

It sounds obvious, but too many people go into the search with one thing in mind: investment. While knowing that the artwork you choose may increase in financial value with time, it shouldn't be the deciding factor for the piece you pick. If value has to play a part, let it be sentimental. If investment comes into your choice, let it be the joy in coming home to it after a long, hard day.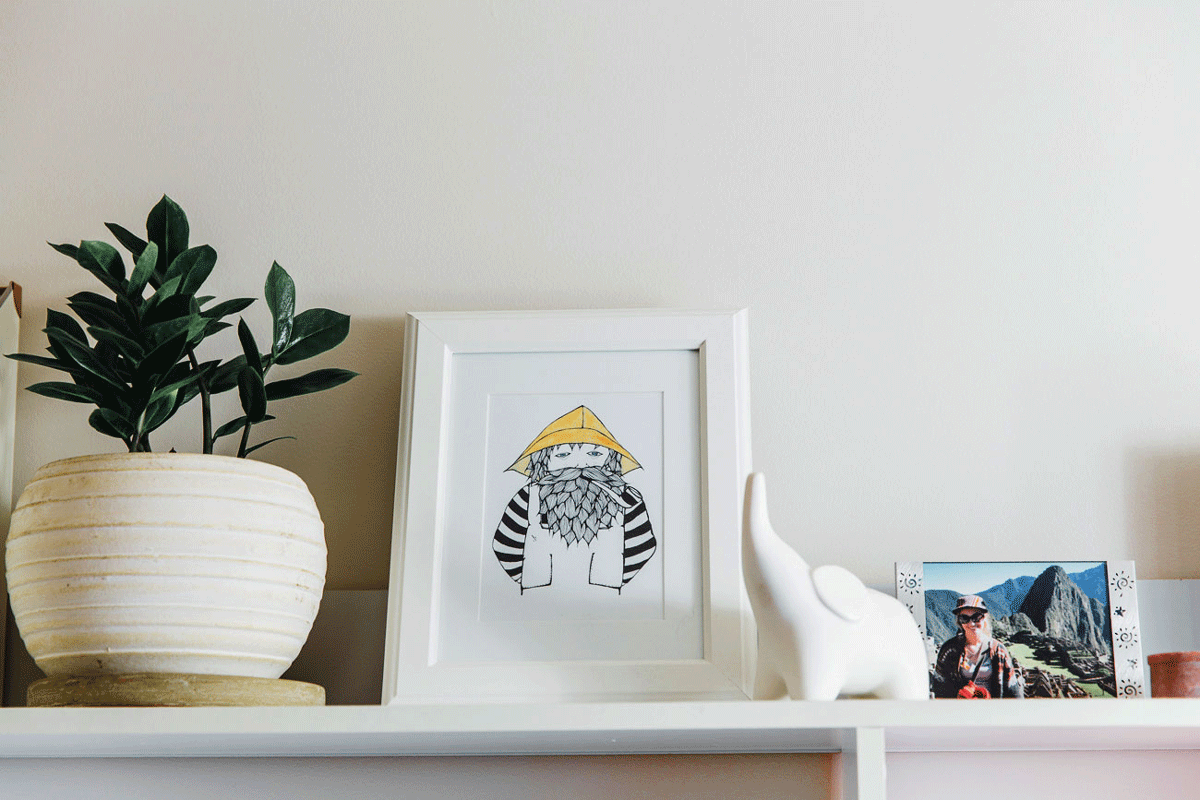 The happy yellow of this sailor by Tina Mose creates a pleasant work environment in the home office of Bluethumb's in-house photographer Megan George
Rule #2: Support the artist, support a dream
Perhaps you've heard the saying "when you buy from a small business, you are supporting a dream". It couldn't be any more relatable than when searching for artwork. The struggling artist stereotype is all too real: what we don't see when we scope the price of a painting is how many hours go into that piece, the materials, the media used – not to mention accrediting the skill itself. And while buying art shouldn't leave you broke, letting the price of a painting sway your decision can lead to generic, low quality work and consequently a lower life span for your chosen piece. What better way to give your home character than supporting an artist and creativity in the process?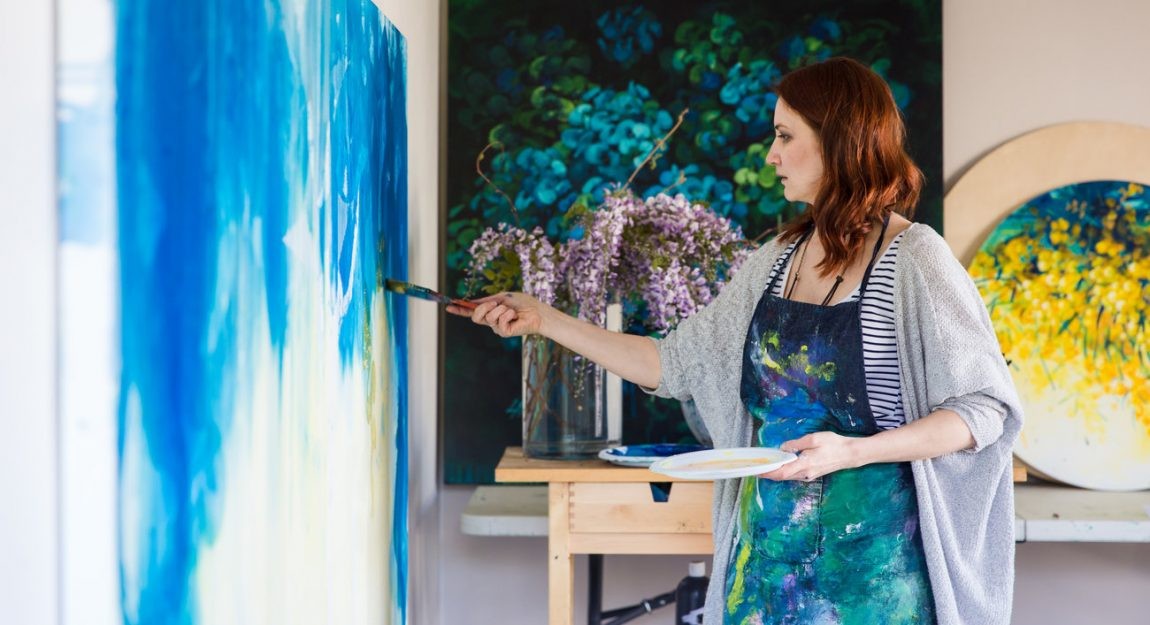 Artists like Lily Nova give the gift of beautifying a home; homebuyers give the gift of supporting an artist's dream.
Rule #3: Work with the space you have
There's an abundance of reading material you could turn to when it comes to buying art that works well with the specifications of your home, but what it really boils down to is this: know the space you're working with. Is a huge artwork going to cramp up that tiny studio space? Will a small A5-sized print get lost in the breadth of a large-sized kitchen mural? There is a place for every piece, and a piece for every place. If you're drawn to small pieces, consider building a symmetrical collection – creating focal points with a collection of pictures can be just as effective as one large-scale piece, and add to the essence of your home at the same time! If you're feeling creative and adventurous enough to build a gallery wall in your home, see this article on hanging art for tips.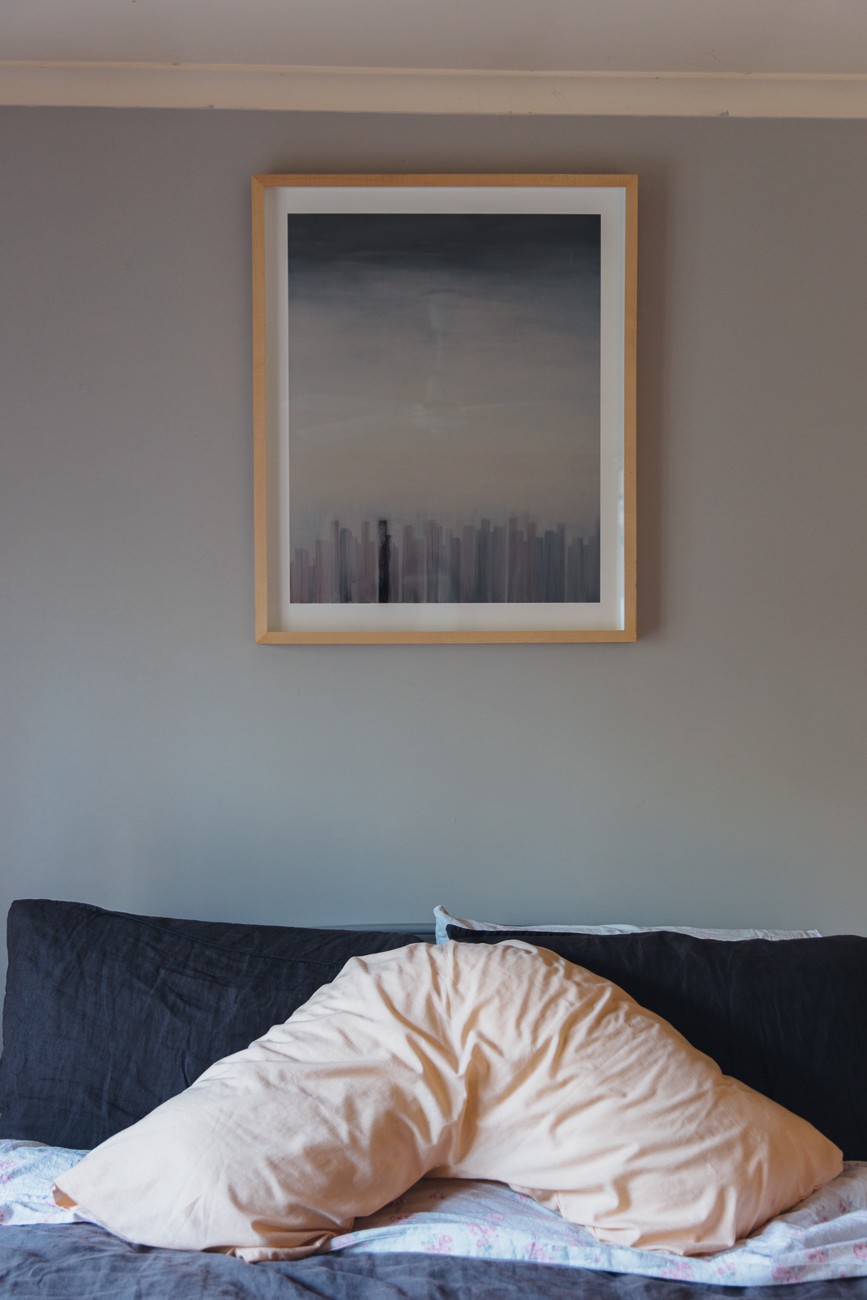 A print of Miriam by Israeli artist, Keren Paz perfectly matches the grey and peach colours of the bedroom.
Rule #4: Make a connection
It doesn't matter if this is the first or fiftieth artwork for your home – cohesion and balance is central to choosing the right work for your walls. Colour, media, style and theme are all key factors to take into account. Selecting artwork that matches hues and tones of your furniture, interior and odd ornaments is one popular approach; a strong pop of colour in neutral areas is another. However you decide to create cohesion between your art and your home, take the opportunity to set the tone of a room with the art you choose. A peaceful abstract piece, for instance, can promote serenity throughout a central living room. Similarly, soft watercolours in a painting are more likely to soften a space, whereas oil paintings with thick textures could in turn energise the atmosphere in a room.
Rule #5: Buy from the best
With an ever-growing number of marketplaces, both physical and online, it's easy to fall into the pitfalls of a bad art peddle. Be sure to avoid dodgy dealings and stick with reputable sources that put supporting the artist and the buyer first. Australia's largest online art gallery Bluethumb has a solid reputation for being ethical and championing talented artists across the country as well as the nation's top indigenous art centres. What's more, with a free art advisory service, you can take the stress out of those tricky decisions and find the piece meant for your home with ease and assurance, leaving lots of room for the fun of buying art to begin!