Originally posted by Courier Mail and written by Chris Pearson | 23 June 2023
Innovations such as Smart mirrors and switchable privacy glass are combining with custom lighting to create the bathroom of the future, today.
But not everything about bathrooms is forward looking. There has also been a surprising throwback to the 70s and 80s as todays' generation of homeowners revisit the memories of their childhood.
We've compiled some of the latest bathroom trends across lighting, tech, colour schemes, showers and tubs for 2023.
This Methven bathroom has an LED mirror. Picture: Harvey Norman.
Hue and why
Colour sets the tone and mood in what is often a relatively small room.
Neutrals such as white and grey remain popular, but blues and greens – with misty-grey undertones, nothing jarring and in your face – and cool-toned pastels are finding fans, too, as they evoke calm and team well with crisp white.
"Sage green is on trend," says Nayler.
"Soothing, relaxing and evocative of sea and sky, blue can be paired beautifully with white fixtures," says Cocking.
These natural colours are being used in new ways. "One colour used on the floors and walls (and even on the ceilings) can create a magical space," says Leeton.
Blue is popular in bathrooms at the moment. Picture: Harvey Norman.
Smart lighting
Harsh lighting of the past has been given the flick.
"Flattering light," says Leeton, "is vital for checking everything is in place before you venture out into the world. White or fluorescent lights have made way for warm globes and wall lights have replaced downlights (that) cast shadows, while concealed lighting also gives a soft indirect glow (when you don't need task lighting)."
"We are seeing a combination of ambient light from pendants, accent lighting to highlight architecture and overhead task lighting for applying makeup or shaving," says Cocking. Pictured below is a smart LED mirror and San Ceramica natural stone basin, supplied by Harvey Norman.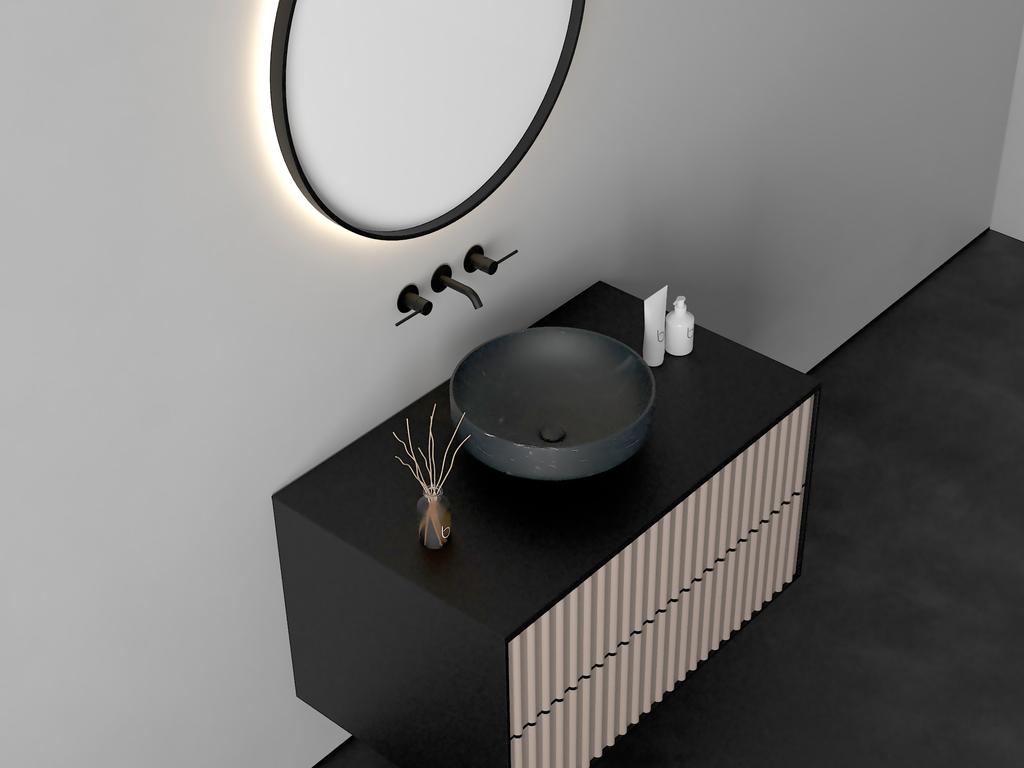 Bathroom mirrors are well lit for the morning routine. Picture: Harvey Norman.
Smart technology
Bathrooms may be a place to get away, but we are not leaving technology at the door. "Integrating technology is a growing trend," says Sobol.
"Features like smart mirrors with built-in LED lighting and touchscreen controls, heated flooring, digital shower systems and voice-activated music devices are popular choices." "From smart mirrors that can display the weather, news and traffic to switchable privacy glass that frosts windows to maintain privacy, the bathroom is becoming more efficient, sustainable, and hygienic than ever before," says Cocking.
Locally designed and engineered, Caroma's Urbane II Electronic Bidet Toilet Suite is a response to growing demand – who would have thought 10 years ago that Aussies would be lifting the lid on bidets?
"We are installing smart toilets in about 30 per cent of jobs," says Criticos.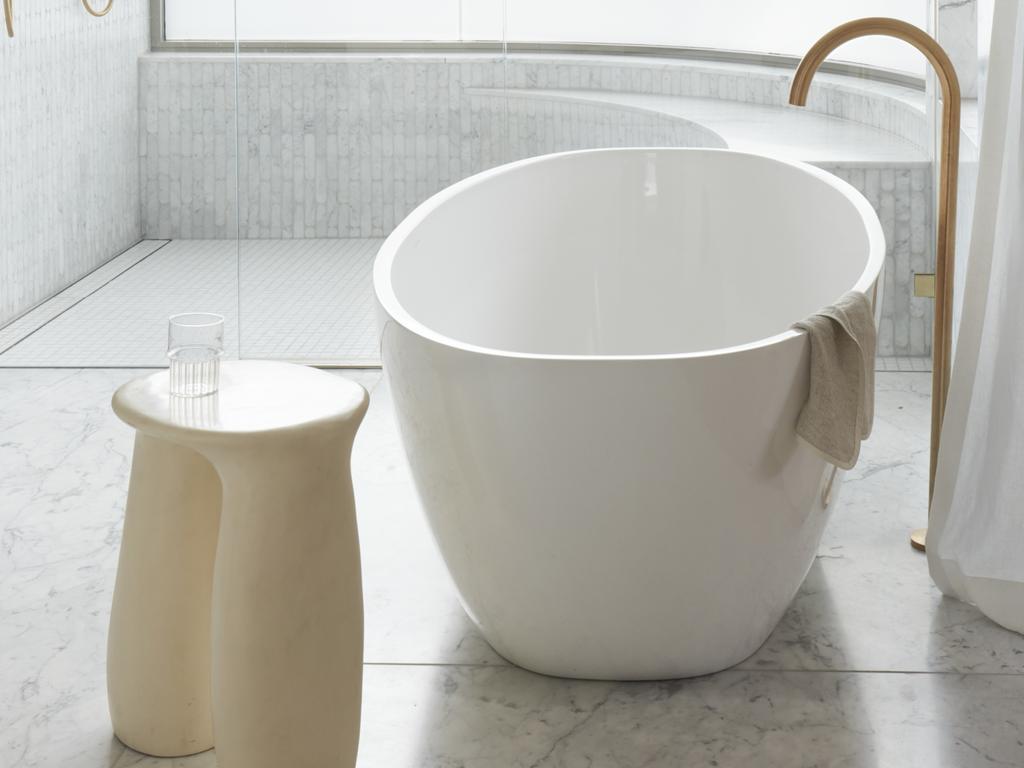 The luxury of a good bathroom. Picture: Prue Ruscoe / Studio Gorman
Time travel
Nostalgia is a potent force in interiors – could we be hankering for simpler, carefree times? "There is a lot of love for the 1970s and 80s," says Suzanne Gorman.
"People who had fun in those decades are renovating houses in ways that pay homage to the original style. A contemporary bathroom with an '80s feel would include pastel hues of blue, pink or lemon, teamed with clean, contemporary lines. And a contemporary take on '70s bathrooms teams timber with rich chocolate and burgundy tiles."
Pictured below is a stunning Methven bathroom, supplied by Harvey Norman.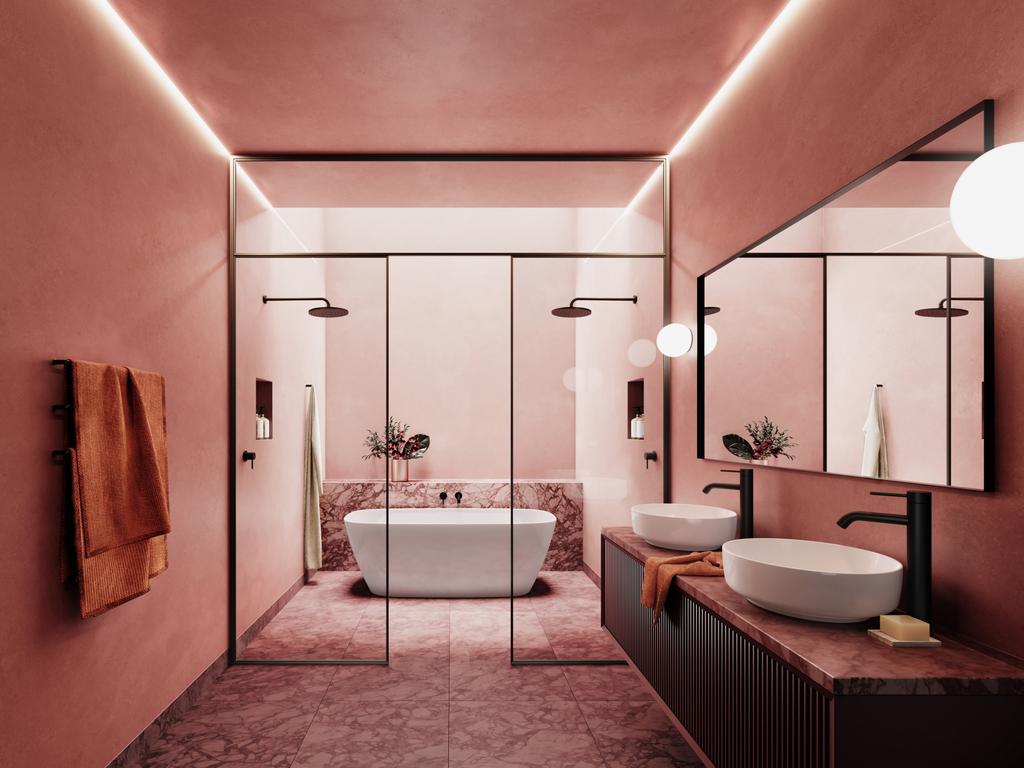 Colour is coming back. Picture: Harvey Norman.
Tile story
"Eye-catching tiles are a significant trend," says Sobol.
"Bold patterns, geometric shapes and vibrant colours create focal points on walls, floors and/or splashbacks. Moroccan-inspired tiles, subway tiles and large-format tiles are common options." "I love a beautiful red or green glazed tile at the moment – and handmade tiles create such a textural and unique finish," says Leeton.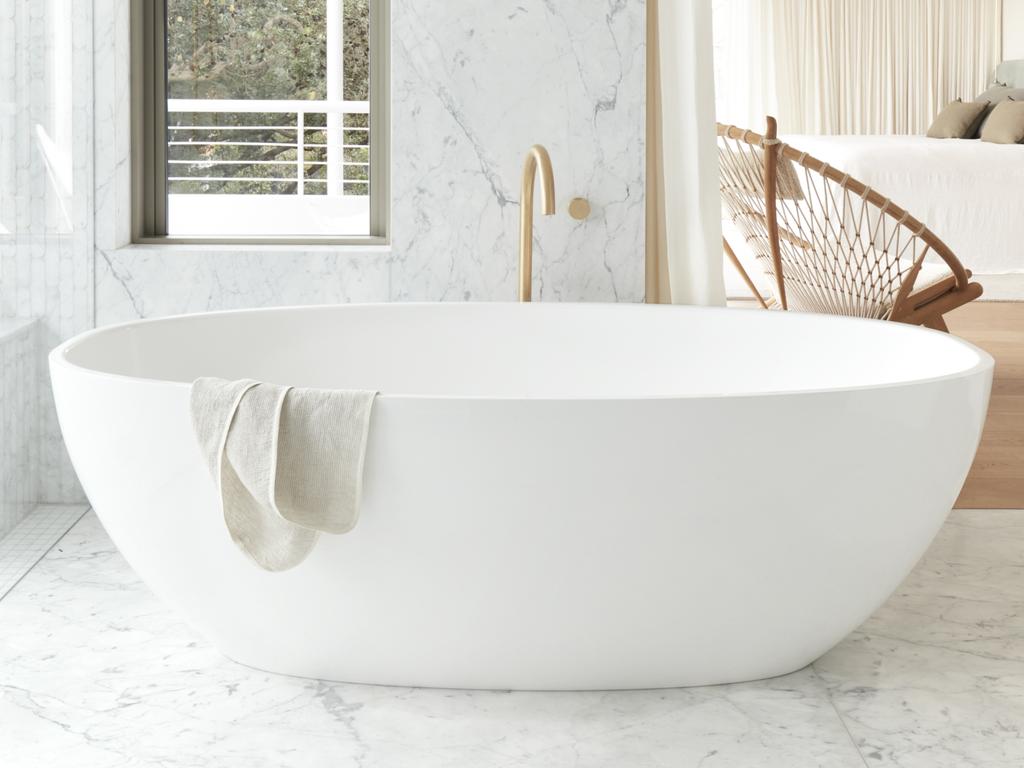 Freestanding tubs are still winners. Picture: Prue Ruscoe / Studio Gorman.
Free and easy
Freestanding bathtubs and spas make an instant statement.
"These luxurious tubs, often made of stone, are a focal point in the room," says Sobol.
"They add a touch of elegance and a spa-like feel."
This might be where a customer might be prepared to make a splash – budget-wise as well as literally.
"Modern bathroom design, influenced by the concept of the bathroom as a destination, maintains the bath as the focal point," says Cocking.
"A freestanding design makes a luxurious statement piece. Caroma's Urbane II 1800 oval freestanding bath, teamed with the Urbane II freestanding bath filler in brushed brass, provides the ultimate opulent factor."
Curved forms create a striking aesthetic. Picture: Prue Ruscoe / Studio Gorman.
Going with the flow
Echoing that natural feel, organic curves are the perfect complement.
Mirrors – often trimmed in brass – are no longer four-square but fluid and elegant. And materials are being moulded into flowing forms.
"Natural stone is becoming the most popular material to create a luxurious space. We are using it to create stone-wrapped basins and hob wall caps," says Criticos.
"Curved vanities, pill- and arch-shaped mirrors and fluted tiles, baths and basins are the go right now," says Sobol.
They are softer and a reaction to the harsh right angles of the past, while their organic lines are also a nod to nature.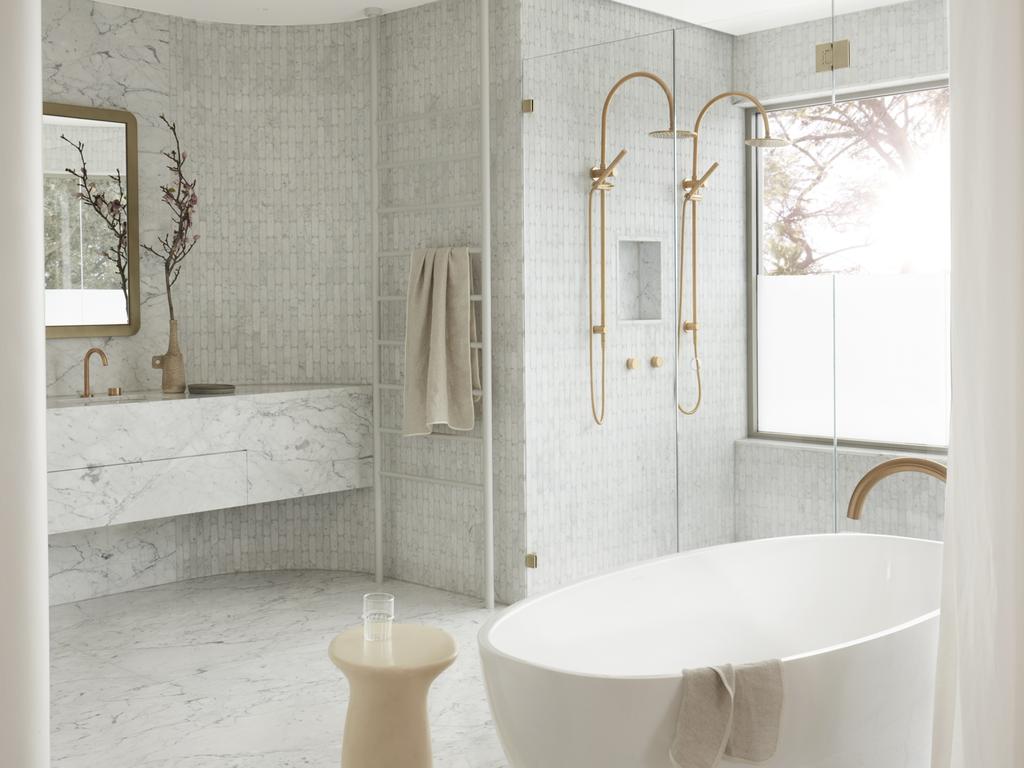 Walk-in showers are becoming even more beautiful. Picture: Prue Ruscoe / Studio Gorman.
Getting steamy
Walk-in showers remain popular, but there's plenty else happening here, too.
"People are being more adventurous with shower screens. We are designing arched, reeded-glass and framed shower screens," says Criticos. "And bench seats are a favourite."
Caroma's Urbane II Compact Twin shower is the "ultimate showering experience," says Cocking.
"With V-Jet technology, it offers a shower experience that puts you in control, with a seamless transition from a firm invigorating spray to a gentle mist and everything in between".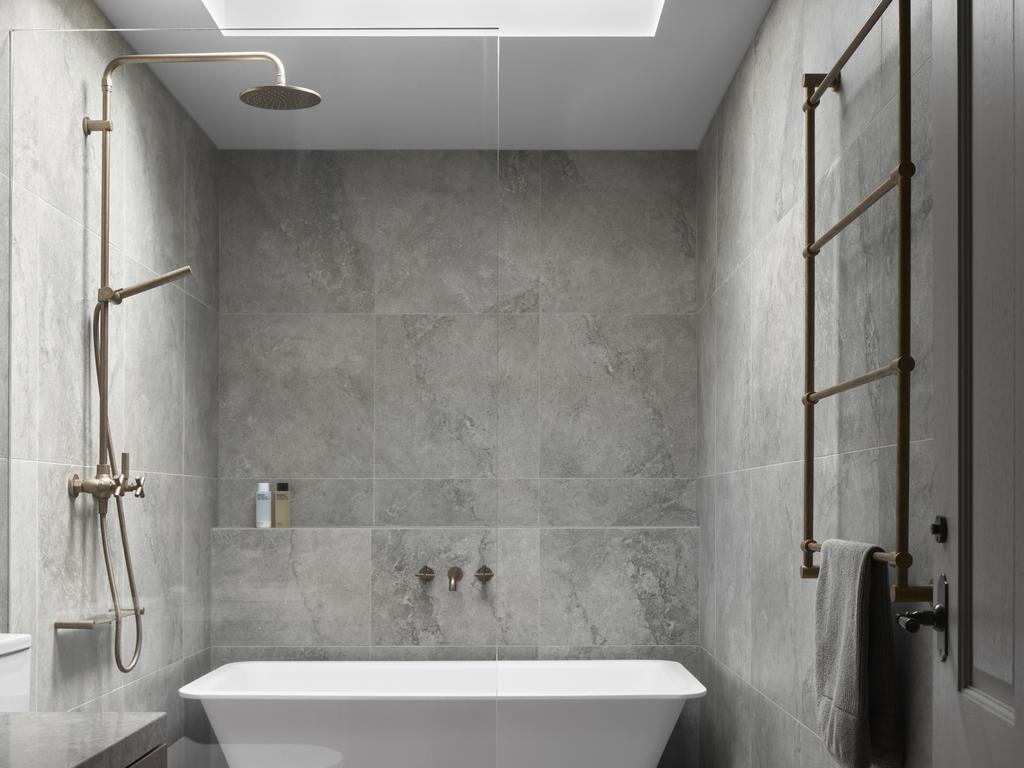 New bathrooms are expensive with labour accounting for much of the cost. Picture: Michael Nguyen.
Being budget savvy
Customers, with a keen eye on the bottom line, are seeking budget savvy solutions. According to the HIA, labour accounts for more than a third of the cost of the bathroom – and those costs skyrocketed by more than 50 per cent in 2022. So, if you can DIY, that's a lot saved.
Tiling costs account for just under a third of the total, pricey not just because of the initial outlay but also because they need a skilled tiler.
"To save money, tile just the shower area, but always ensure it is tiled to the ceiling," cautions Leeton. Again, you could DIY, but it's not a job for a novice as you don't want to disturb the waterproofing.
"Cost-saving solutions include off-the-shelf vanities, half the cost of custom," says Criticos. "But the best cost-saving option is to renovate within the existing layout, keeping the plumbing in the same location."