Spring has always been the perfect time to give your home a good spruce up. With these spring cleaning hacks you can do it quickly, cheaply and effectively.
Originally posted by Courier Mail and written by Kate McIntyre
– Link
The arrival of spring has long symbolised birth, new beginnings and the renewal of life. It has also come to mean scrubbing, washing and declogging.
Yes, it's time for spring cleaning.
TO SPRING CLEAN OR NOT TO SPRING CLEAN
While washing windows or cleaning exhaust vents may be the last thing you feel like doing on a beautiful spring day, there are many good reasons why you should bite the bullet and get stuck into some deep cleaning.
The first reason is hygiene.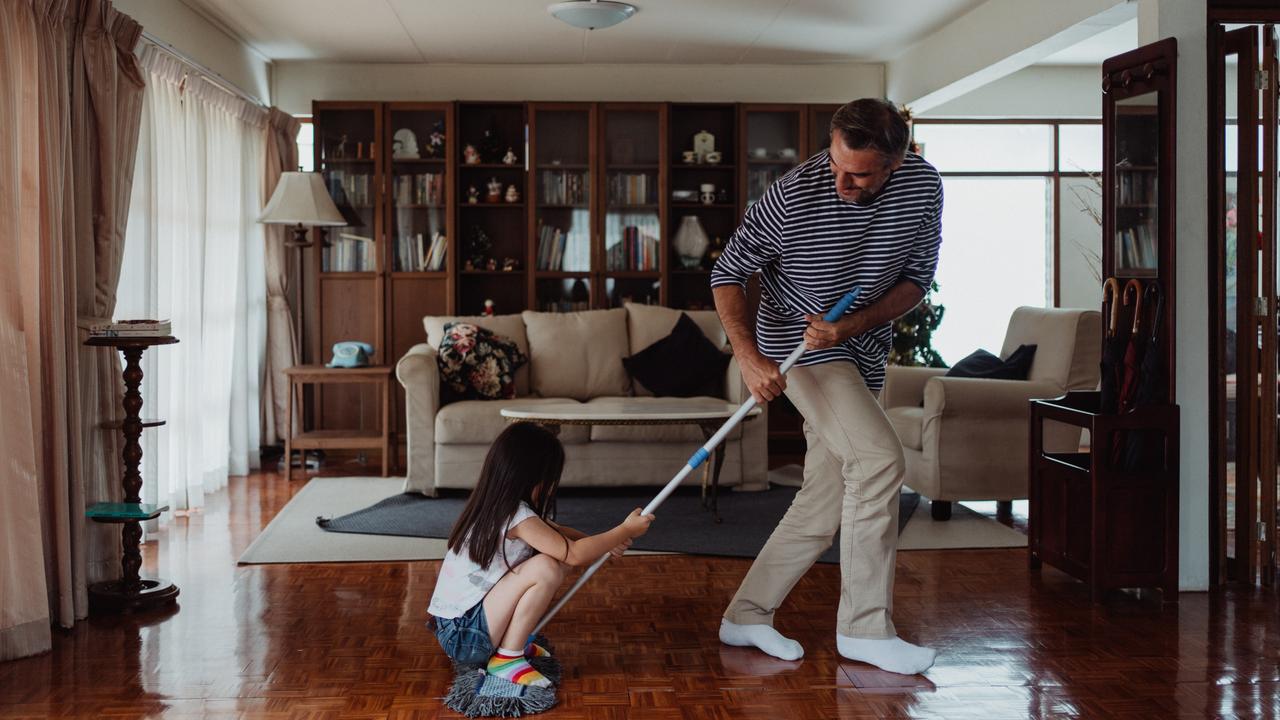 Get the family on board when cleaning the house. Picture: hipages
The second is that Christmas is just around the corner, says hipages Group Customer Advisory Board member and proprietor of AZ Cleaning and Property Services Andrea Zappacosta.
A yearly deep clean before the silly season means you can get on with the busy last few months of the year, knowing the house is clean and ready for entertaining come summer.
GET CLEAN IN ONE WEEKEND
Professional organiser and Selleys ambassador, Anita Birges from Mise En Place says prior organisation is key if you want to get the spring cleaning done and dusted in one weekend.
"Get yourselves a cleaning schedule," Ms Birges says.
She says mapping out the areas of the home that need to be cleaned "makes the tasks seem less daunting."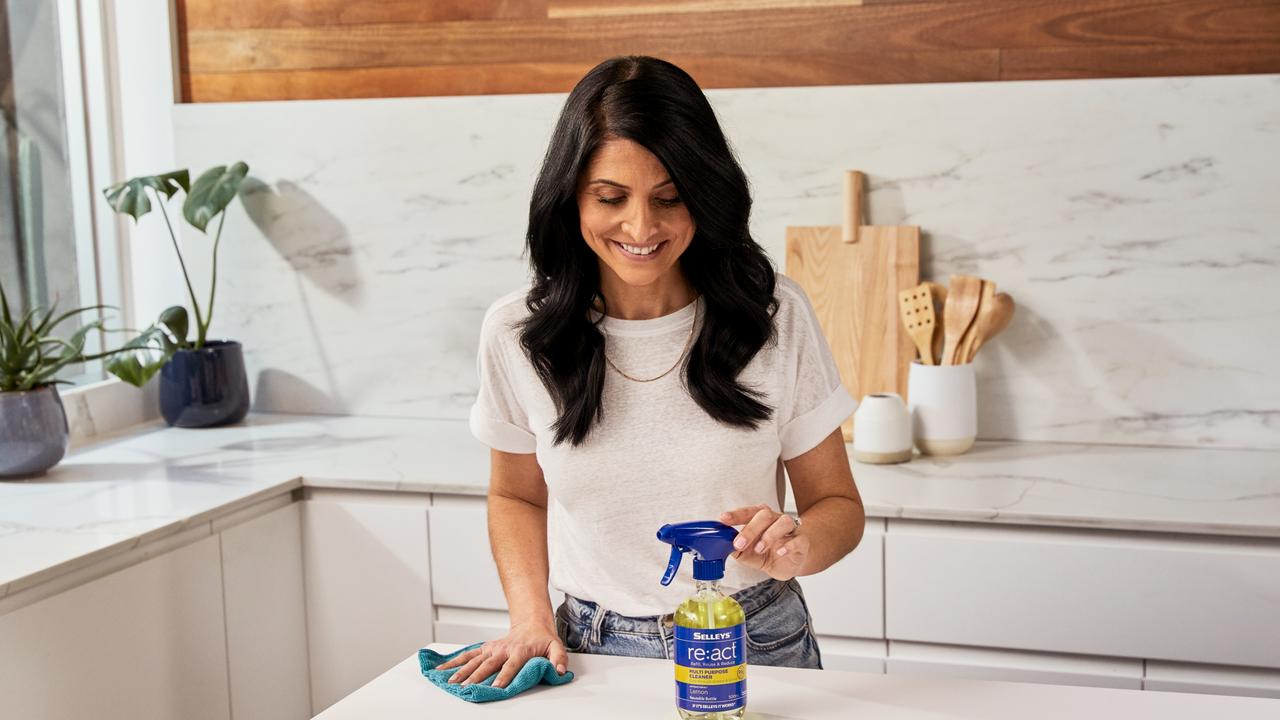 Professional organiser and Selleys ambassador, Anita Birges from Mise En Place. Picture: Selleys
Mr Zappacosta suggests cleaning one room at a time in 90 minute blocks to keep you moving.
It also helps to kit up with the right tools. Microfibre cloths paired with a multipurpose cleaning spray will save you needing to switch as you go. Mr Zappacosta uses a DIY solution of 70 per cent methylated spirits and 30 per cent water with a few drops of essential oil that can be used on a range of surfaces including glass and stainless steel.
JOBS TO TACKLE
After keeping the windows closed throughout winter, spring is the perfect time to wash the panes and clean the window tracks, Mr Zappacosta says.
"The windows build up with dust, dirt and insects as well as water stains from rain," he says, adding that an old toothbrush is just the right size for dislodging dirt in the tracks.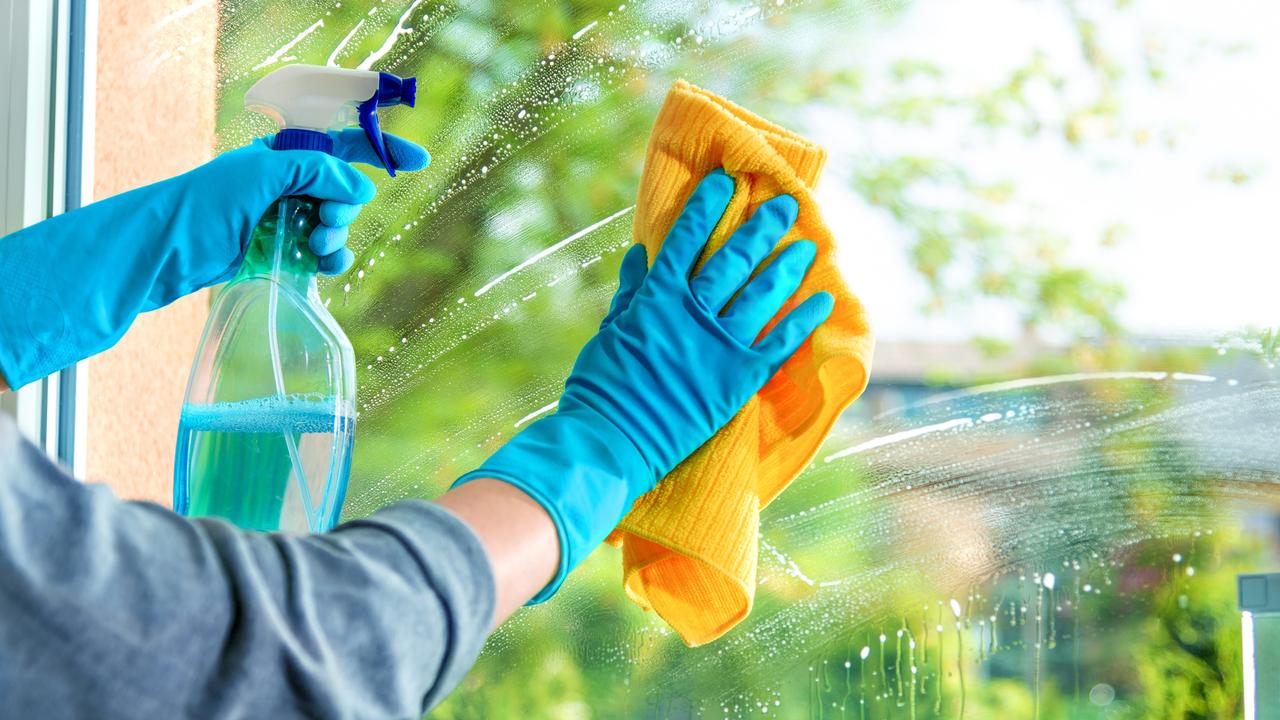 Spring is a good time to clean those dirty windows.
Carpet Institute of Australia executive director Andy Martin says carpets should be deep cleaned every 12-18 months as a preventive measure depending on the amount of foot traffic in the home.
If carpet is only ever deep cleaned after a spill or major soiling, it's "a bit like waiting for your car to break down and then fixing it at more cost instead of having it regularly serviced," he says.
"Deep cleaning not only revitalises the appearance of carpet but also removes accumulated dust, allergens, and potential contaminants," Mr Martin says.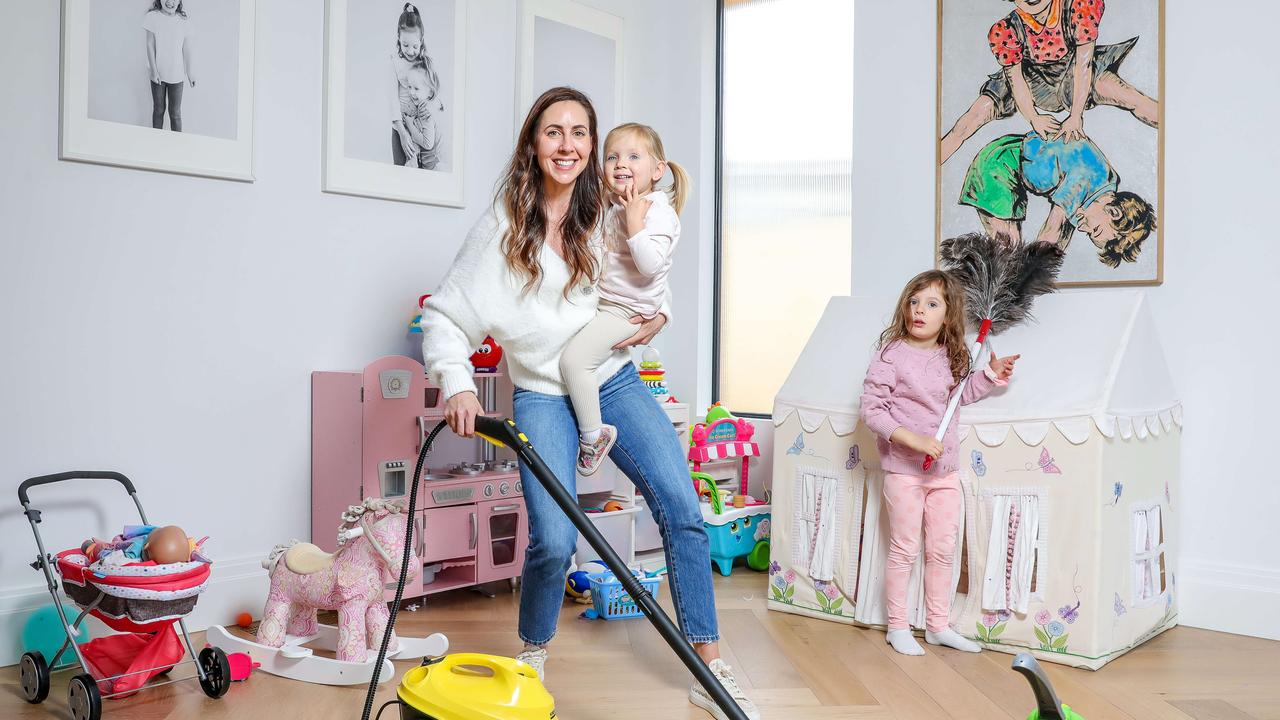 Leading by example helps to get the kids involved. Picture: Tim Carrafa
While you're at it, why not clean your couch, says Jess Beileiter from Clean Organised Home. The cleanfluencer says lounges hold so much dust and dirt they should be thoroughly cleaned a few times a year.
"As this is one of the most used pieces of furniture, it can hold lots of germs and is important to give a deep clean by removing the covers if you can, and washing in the laundry, or using a steam cleaner that you can hire," she says.
Don't forget to clean airconditioning vents, exhaust fans and the insides of appliances like fridges, ovens and dishwashers, Mr Zappacosta says.
For tricky or dangerous jobs such as clearing the gutters, it's best to call in the experts.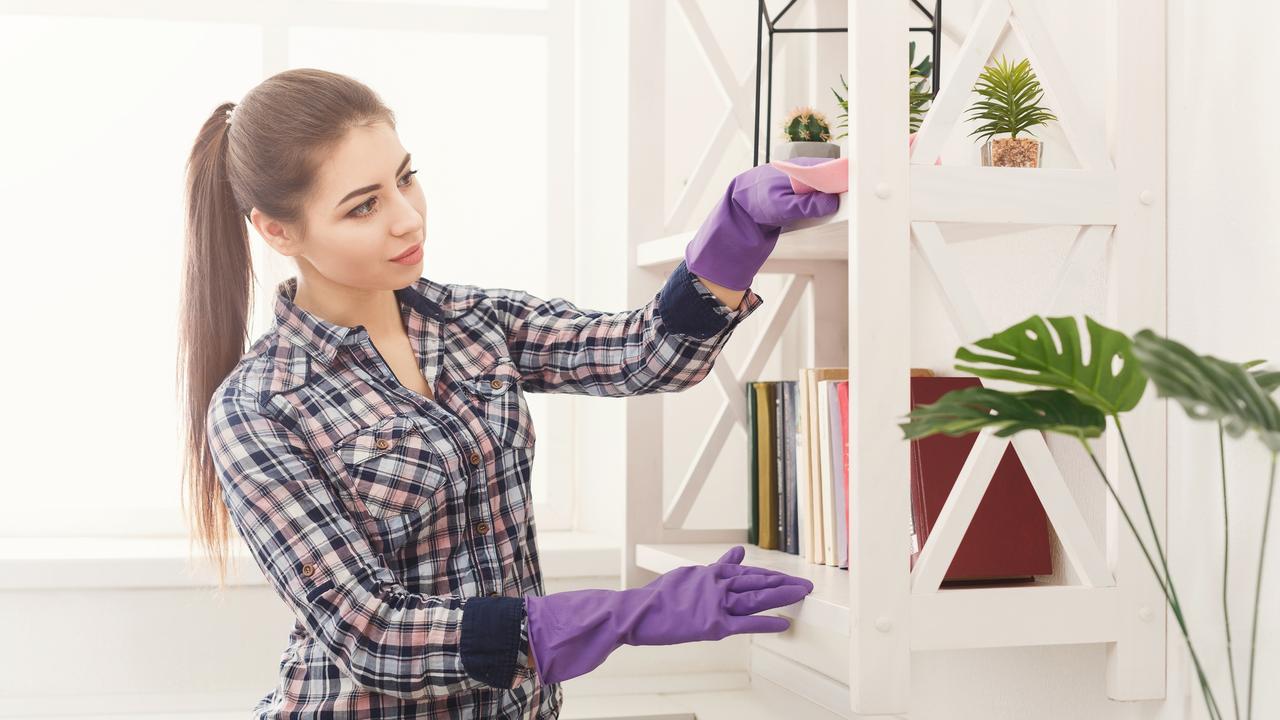 Keeping things tidy makes spring cleaning a breeze.
GET THE FAMILY INVOLVED
Who doesn't love an extra set of hands when it comes to cleaning? Unfortunately, it's not always easy to get the kids involved – even if you sing "a spoonful of sugar …" to them.
Selleys influencer Mina Gajera from Mums Great Life says encouraging teamwork and expressing appreciation is key.
"Communicate openly, set clear expectations, and lead by example," she says. "This is how I communicate to my kids to get them on board: 'Let's team up to make our home cosier. We'll chat, share tasks and Mummy will show you how fun it can be'."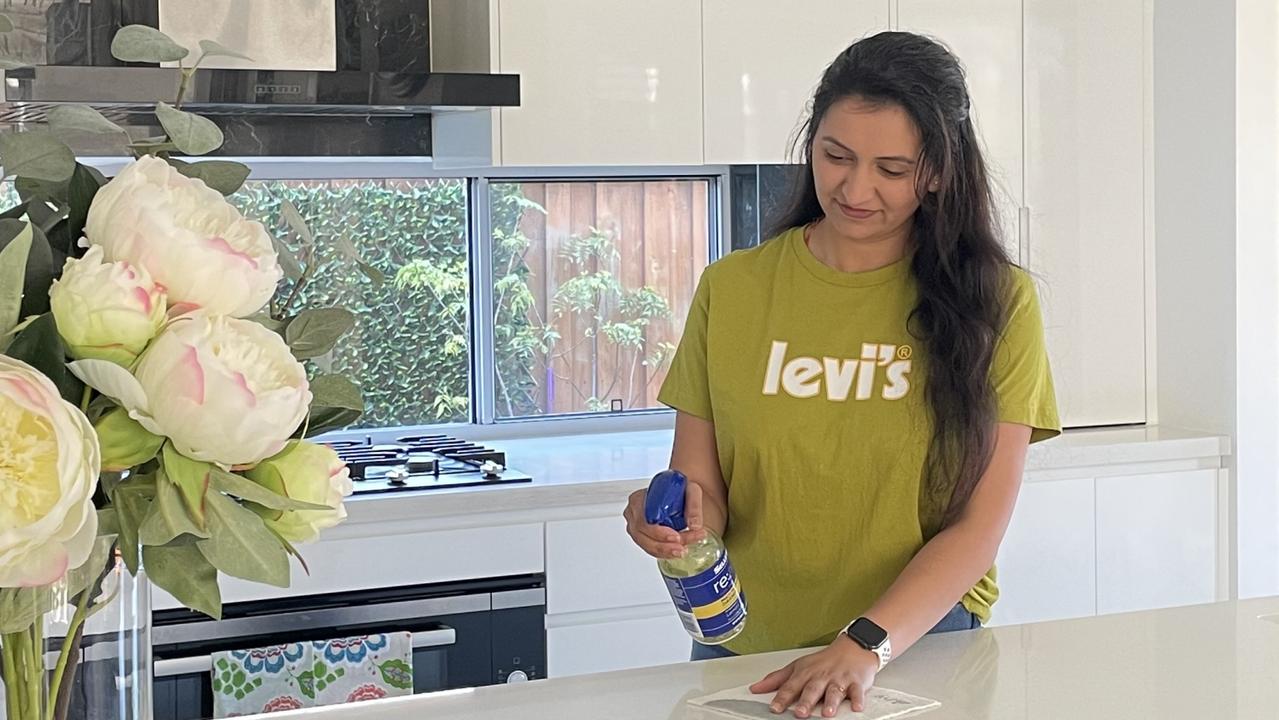 Influencer Mina Gajera from 'Mums Great Life' says she encourages team work from the family.
One way to make cleaning fun is to draw dust pictures, says Mum's Lounge blogger Rebecca Senyard. This involves getting kids to draw a picture on a dusty surface with their finger and then wipe it clean with a microfibre cloth. Encourage them to find more and more dusty surfaces this way.
If your kids are older, consider offering incentives to help out, such as an outing or special meal to celebrate all the hard work put into making their home clean.
But if these things don't work, you could always just do the cleaning yourself when the kids are at school and out of the way.
Originally published as Quick, easy guide to a good spring clean