Originally posted by Courier Mail and written by Chris Pearson June 2023
What began as a Covid-driven obsession with health and hygiene has evolved into a permanent shift towards making homes more healing, with the bathroom playing a starring role.
Homeowners splashed out on bathrooms during the pandemic and they haven't cut back. During lockdown, the bathroom emerged as not just pamper central, but it was also one of the few places where we could snatch precious me-time away from other family members.
Average spends on bathroom renovations went up about 25 per cent from around $21,000 in 2021 to around $26,000 last year, says Thomas Devitt, senior economist at the Housing Industry Association of Australia (HIA).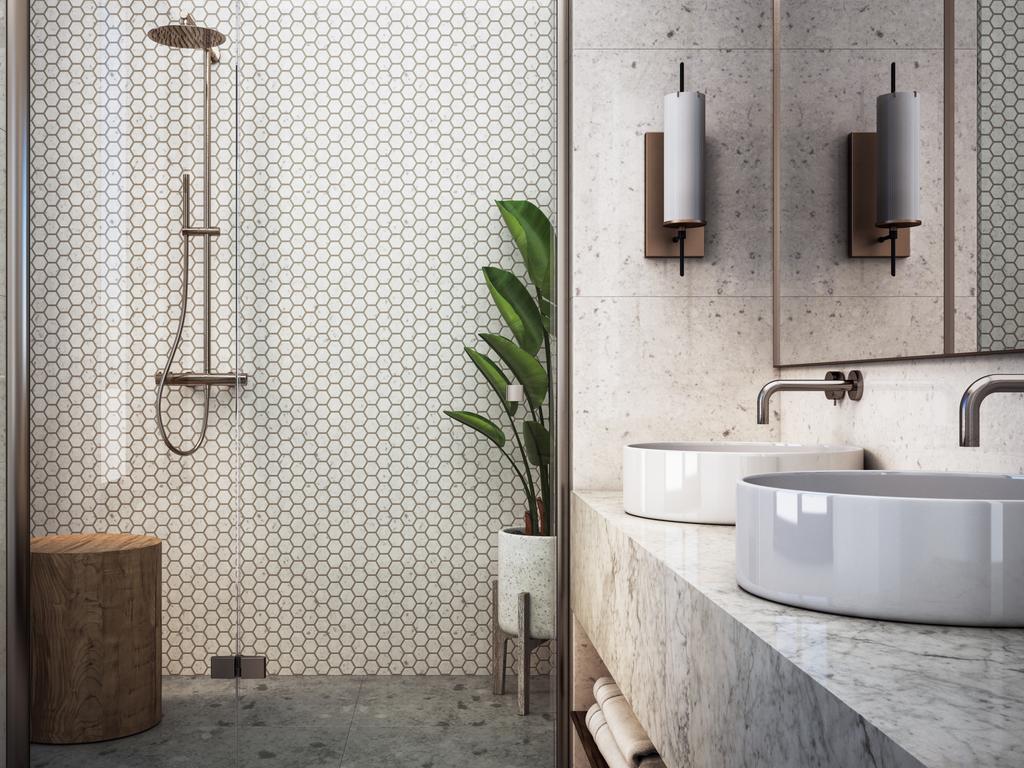 Bathroom renovations were especially popular during Covid.
That could be partly attributed to supply shortages and skyrocketing labour costs, which, according to Georgette Criticos of GIA Bathrooms and Kitchens, pushed total costs up by as much as a whopping 30 per cent.
But homeowners aren't daunted – they've either upped their spends or sought luxe for less. "Small budget bathroom renovations start at around $5000 while a larger bathroom requiring a major renovation can cost $25,000," says James Cocking of Caroma.
And factor in trades – they're extra.
Here are the key trends dominating our bathrooms in 2023.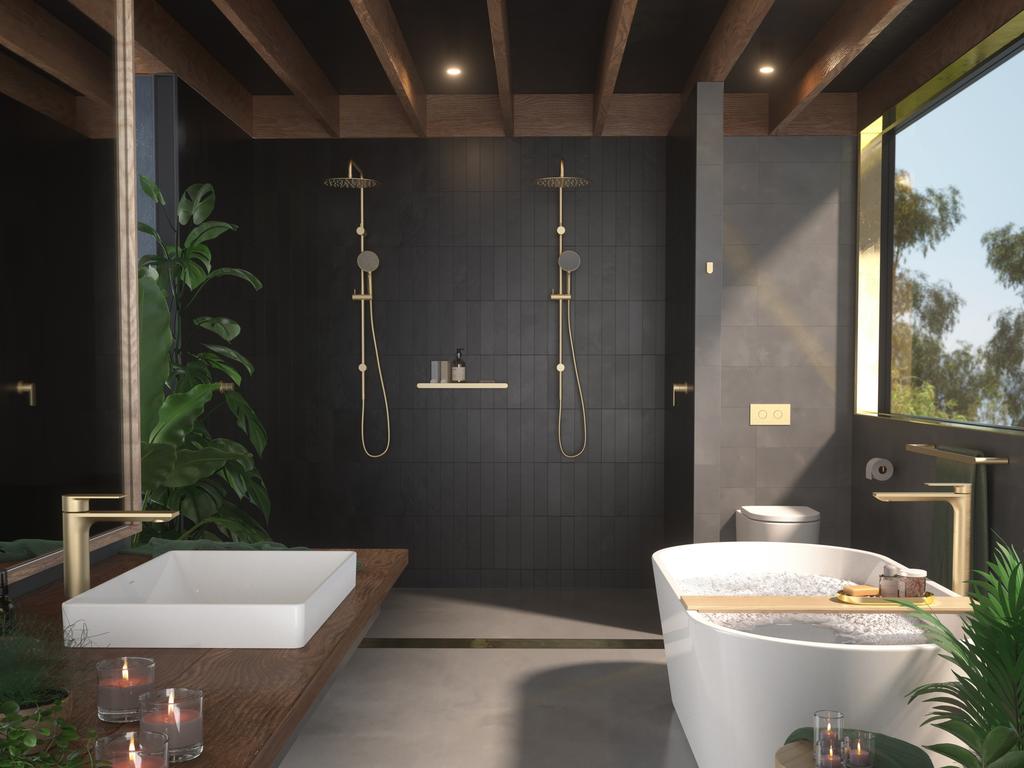 This Caroma bathroom features neutral tones and natural textures.
See the light
Forget those prim small windows of the past – we are welcoming in daylight and forging a connection with garden and sky – while preserving privacy, of course.
"I love natural light coming through a window or skylight," says architect Susi Leeton. "Skylights can give a beautiful monastic feeling. To watch the sky or the stars in the bath or shower is delightful. Connection to the landscape or garden with full-length windows creates tranquillity and makes the bathroom feel bigger."
Privacy is retained with curtains or external screening around a courtyard.
Skylights add light without compromising on privacy. Picture: Michael Nguyen.
Local heroes
"Modern Australian" is the buzz – rather than mimicking overseas trends, there's a local look. "Modern Australian is the top visual trend resonating with customers," says Amy Nayler of Reece Bathrooms.
"We're seeing the harmonious palette of warm tones and textures inspired by the Australian landscape. Also think circular, organic shapes, ribbing and on-trend sage green."
"Modern Australian is a new trend where we are seeing a lot of timbers on vanities and wall panelling, hints of green concrete basins and feature tiles, and lots of natural light," says GIA's Criticos.
Different textures and finishes combine with organic forms.
Luxe liquid
The hotel or day-spa experience tops many wishlists.
"The bathroom remains a retreat from everyday hassles, with more than half of those surveyed for our Annual Insights Report revealing they use the bathroom to unwind and de-stress," says Neesha Brookman, of Reece.
"During the pandemic, this went through the roof, but this attitude endures. Moody materials like dark marbles, interesting metallics, statement baths and mood lighting create a sense of indulgence."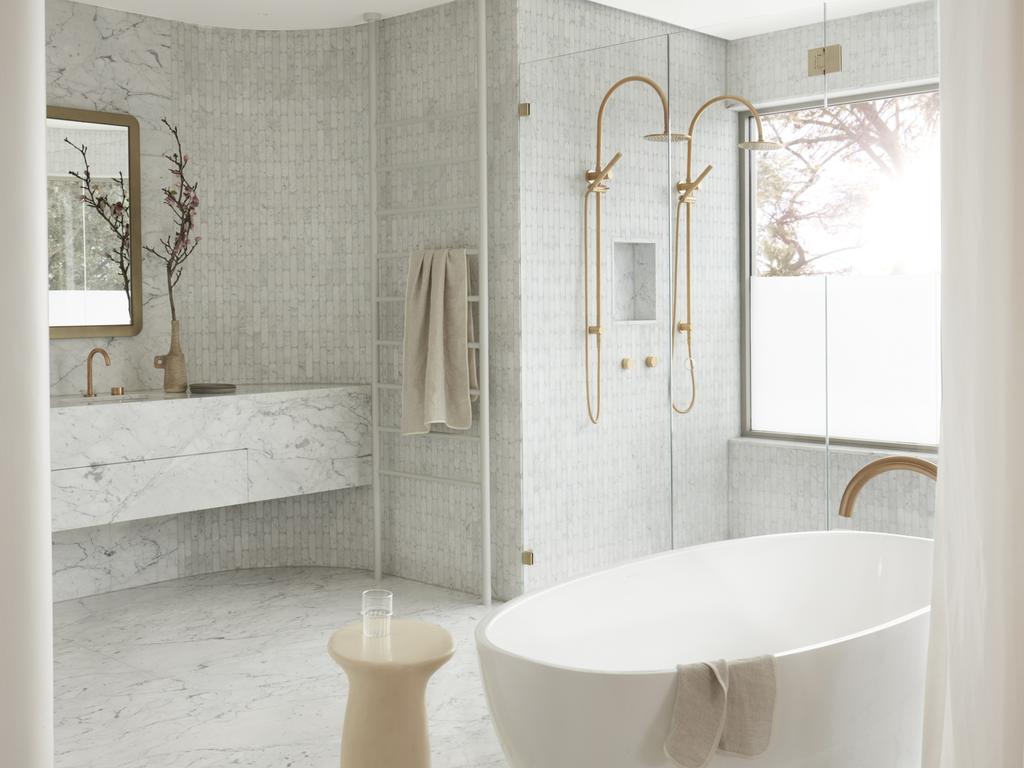 The day spa experience at home. Picture: Studio Gorman / Prue Ruscoe.
"We are seeing luxurious spa-like bathrooms," agrees Criticos, "with clean palettes, heated towel rails, underfloor heating and feature lighting."
And lashings of marble help deliver that opulence.
"Marble brings luxe to a bathroom, however we are now seeing a more layered take, with two to three different marbles, often cleverly clashing, bringing a unique personality," says interior designer Suzanne Gorman of Studio Gorman (as seen in this project, left).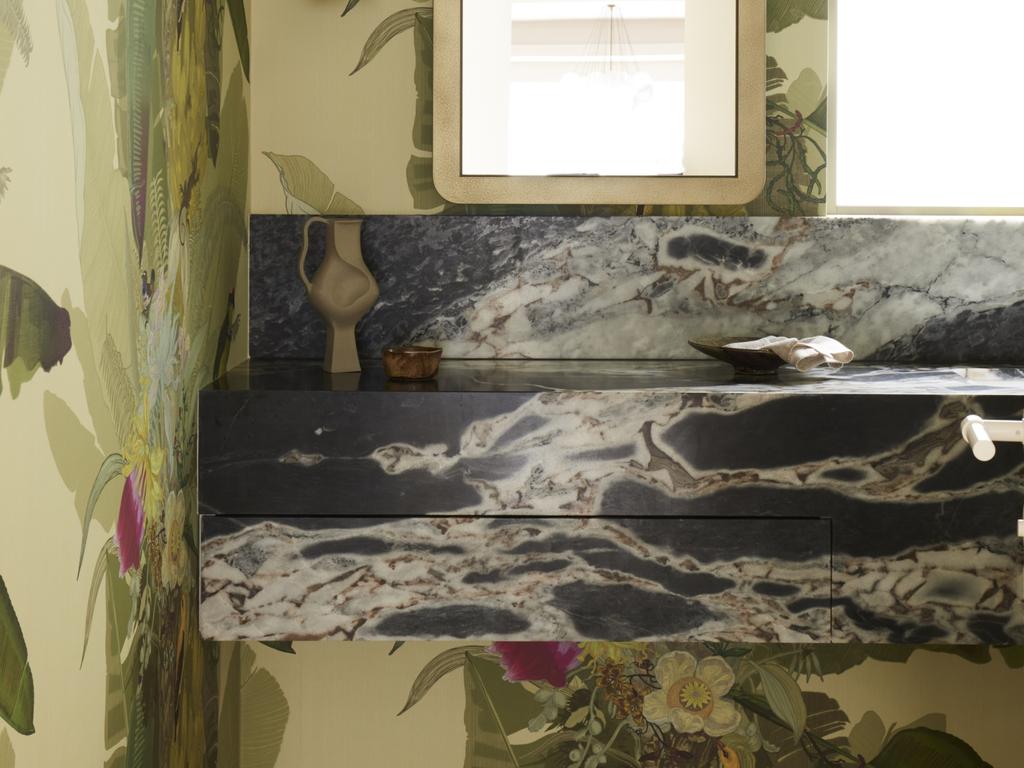 Organic patterns contrast in an Australian style. Picture: Studio Gorman / Prue Ruscoe.
Natural progression
Organic materials take homeowners back to nature.
"Aged-brass tapware has replaced chrome, as it gives a warm, natural feel," says Leeton. "Large-format stone tiles on both the walls and floors again embrace the natural and, when in the one material, make the room feel bigger, more tranquil and less cluttered."
Elements inspired by nature encourage relaxation, adds Caroma's James Cocking.
"Textured tiles in stone, or glazed to look like stone, and timber ground the space in nature, while aged metallic taps, handrails and showers add further texture."
Plants, wooden stools and/or wicker baskets complete the look.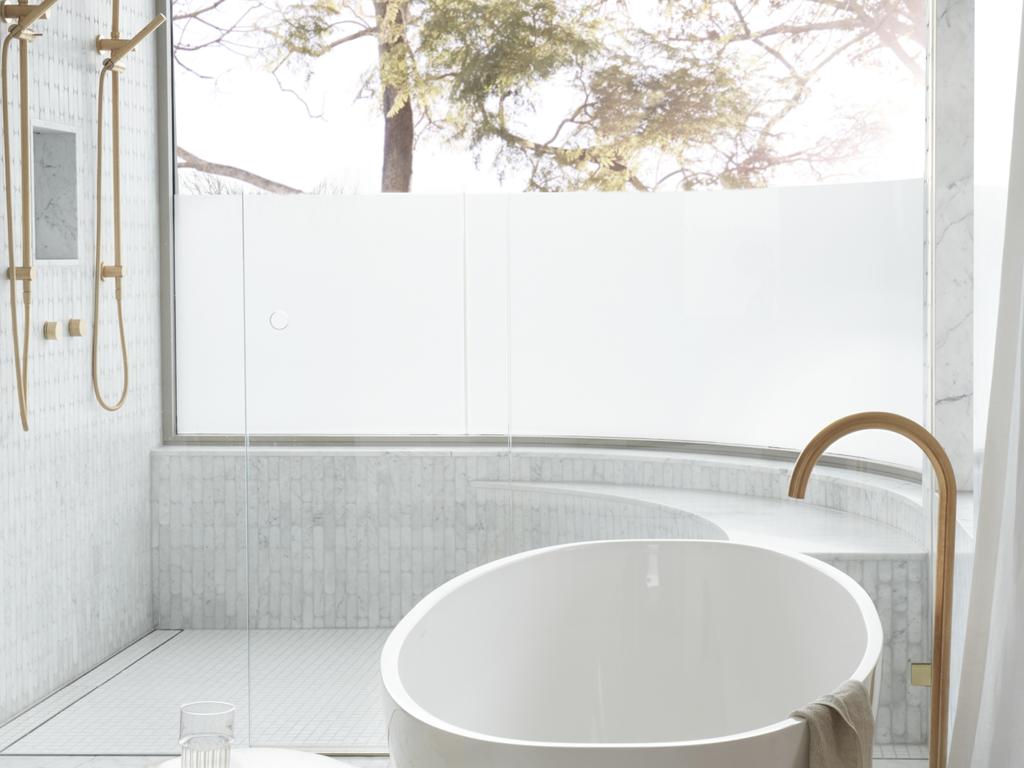 A room with a view. Picture: Studio Gorman / Prue Ruscoe
Going spare
Minimalism remains popular, says Michael Sobol, of Harvey Norman.
"Clean lines, sleek fixtures and a clutter-free aesthetic are favoured," he says.
"Neutral colours such as matte whites, greys and natural tones are often used to create a serene atmosphere."
And that trend extends to industrial chic.
"Industrial-inspired design has gained popularity," he adds.
"Exposed-brick walls, concrete finishes and metal accents are commonly used to create an edgy, urban look. This raw aesthetic is softened with plants or warm lighting."
RELATED: 'False dawn' warning on home prices after PropTrack data release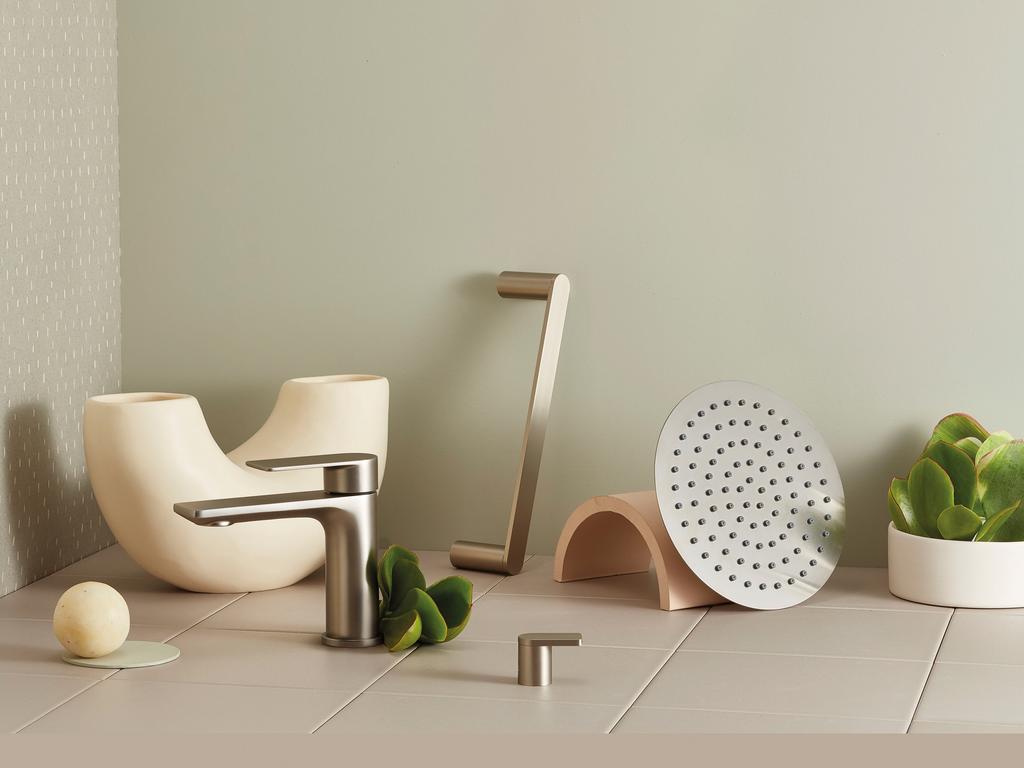 Simple yet stunning. Picture: Caroma.
Eco trip
Bathrooms are green in other ways, too.
"Two in three consumers rate sustainability as important and 77 per cent believe water efficiency is important, according to our research," says Reece's Brookman.
This finding is echoed by Sobol at Harvey Norman: "Customers are showing an increasing interest in sustainable and eco-friendly features. Water-saving fixtures, such as low-flow showerheads, are popular. And the use of environmentally friendly materials like bamboo, reclaimed wood or recycled tiles is increasing."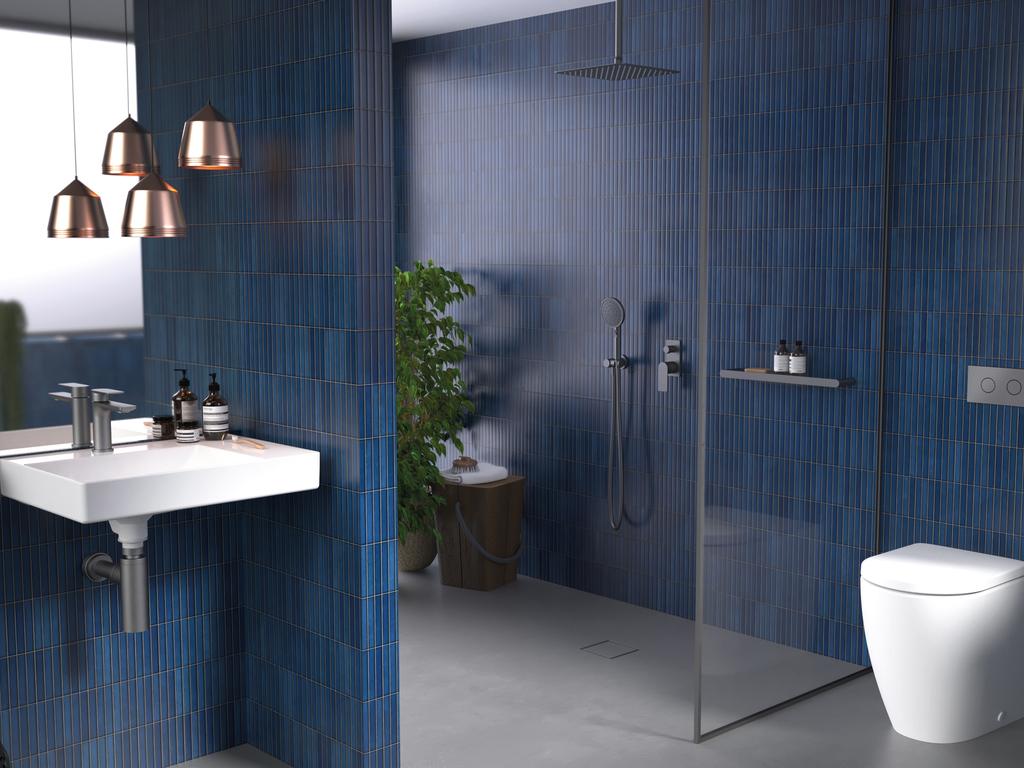 Sleek lines are still in. Picture: Harvey Norman.
Three's company
Forget one bathroom in new houses and two is often not enough, either – three could become the norm.
"Builders surveyed by the HIA in 2022 reported an average of 2.6 bathrooms in their detached house projects, compared to around two in previous years," says the HIA's Thomas Devitt. "Three-bathroom houses were particularly popular, while just one bathroom in a detached house was rare."
This preference no doubt contributed to the spike in new bathrooms completed that year.
Originally published as 'Luxe for less' – hottest new bathroom trends of 2023