It's peak time for thinking about or committing to change in your home this year. These are the big new trends for 2023.
Smart home features, bold colour statements and curvaceous furniture: expect the unexpected in home design trends for 2023.
With customer behaviours indicating that summer is peak time for renovation planning, according to Winning Appliances' Kate McGlone, it seems many Aussies ponder home improvements in the spirit of the new year.
So to help get your renovation ahead of the curve, as it were, we speak to industry experts for their hit predictions in home trends for the year.
Colour me happy
Expect to see more colour customisation than ever as limitless options help create spaces unique to every personality, Kate says.
"There is a lot of pleasure in 'dopamine dressing' but as more people move away from stark, white Scandi spaces, we expect to see pops of colour and mixed metals aplenty in homes this coming year," she adds.
Tech up your space
If you're remodelling your kitchen or building your dream home, look to upgrade your space to include the latest trends in cooking technology, such as induction cooktops, steam ovens and air fryers. Expect their popularity to continue, says Tracey Ellis from The Good Guys, because they save on time and waste.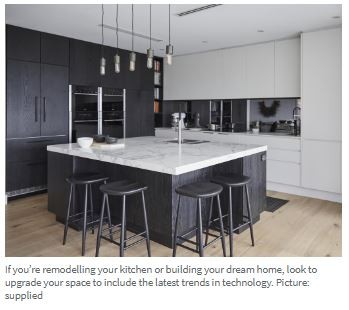 The soul of the home
We're time-poor and living in a fast-paced world, so we want and need more convenience, efficiency, multi-functionality and smart technology – and kitchen appliances are leading the charge. Big-ticket appliances anchor a new layout around 'look at me' items, with the latest and greatest features and the special star quality that makes a new room shine.
To really turn up the heat in terms of kitchen style in 2023, consider a focal point like a freestanding oven or exposed rangehood.
"Intelligent appliances like auto-dosing washing machines and dishwashers that automatically dispense the right amount of detergent for your loads are also stepping up to deliver," says Tania Grillinzoni, cooking buyer for The Good Guys.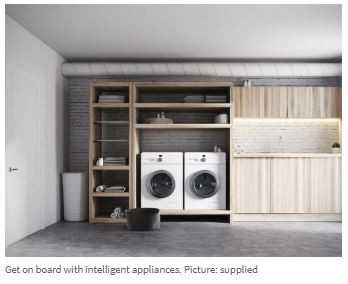 "Other smart features like Wi-Fi-connectivity are also making our lives easier, with selected dishwashers from brands like Bosch, which suggest the best cycle for your dishes as well as save your favourite wash programs – all from your smartphone."
This tech also extends to appliances such as the statement smart fridge.
"Like the smart LG InstaView Fridge range," says Peter Simic, refrigeration buyer at The Good Guys. "With the perks of Wi-Fi, it allows you to remotely adjust fridge settings, so you're ready to accommodate the latest grocery run."
Smart kitchen designs for sustainability
The year's expected trends reflect the post-Covid certainty that our homes can improve our everyday lives without sacrificing the planet. Increasingly, highly efficient technology is helping us strike that balance.
"We are starting to see more of our customers who are undertaking renovations seeking out technology that allows them to save on energy, water and energy, helping to have a more positive impact on the planet," says Kate McGlone.
Loving co-living
Covid saw households turn vacant space into makeshift zones like the home office and emergency bar. Now they're here to stay, but the bland desk and dispiriting office chair are headed for the dustbin of history.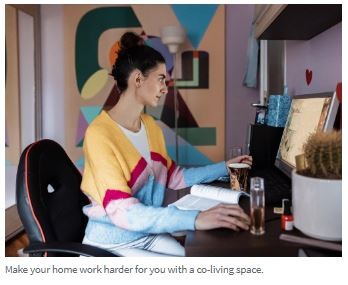 "The trend is now to have a co-living space where you work, live, relax, and entertain with the desire for this space to look good and be comfortable, inviting and lively," says Domayne's Savita Vaghnani.
"People are investing in this space more and plan to create a work, live, laugh scenario for their future work life." Just as offices are made to be more liveable, homes are being made to be more workable and this cross-culture of work and home has boosted our desire to make our homes personalised and functional. Savita suggests using plants, outdoor spaces and bright prints to add personality and zest to video meetings if you are working to a tight budget.
Invest in what makes your life more joyful
John Hall, managing director of Nobby Kitchens, declares the butler's pantry or second kitchen the fastest-growing kitchen trend for 2023, using special appliances like the Billi Hot & Cold water filtration system, sparkling water on tap to minimise plastic bottles, beautiful, bold coffee machines on the benchtop and quieter, ducted rangehoods that don't simply recycle air.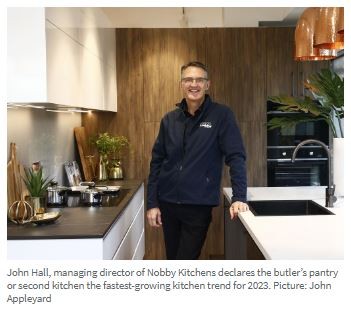 Butler's pantries often include a sink, tap, dishwasher – and even an oven where you can prepare food to keep the main kitchen beautiful and clean. "We're also seeing more people prepared to invest in their laundry space, with luxury slide-out laundry hampers, good lighting, benchtops, splashbacks and deeper benchtops to cover the washing machine and dryer, making it easier to work from," John says.
Originally published as Home renovations: Surprise 'dopamine' home trends of 2023