Sprucing daggy tiles can be a cheap, quick fix – but vendors beware the hasty botched job
Once it was the citizenry of Sydney labelled "property obsessed" by the rest of Australia.
But as the national property picture has swung from one extreme to the next, prices have become a national concern – and runaway inflation rates offer little comfort to home buyers or sellers.
With a current auction clearance rate between 45 and 65 per cent, depending on the city, more vendors are holding on, waiting for more profitable times.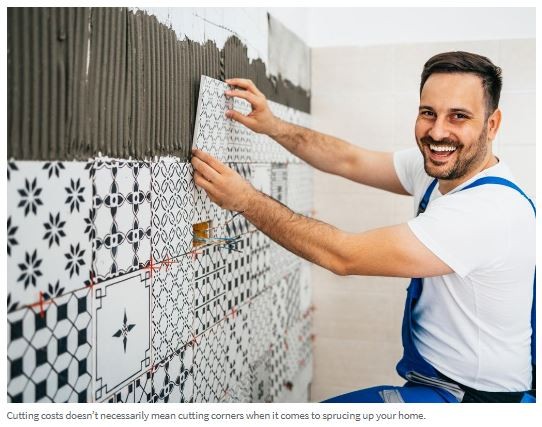 HOME RENOVATION TIPS: SIMPLE BIG MONEY SAVERS
The Touch-up Test
Those in the know – including Shaynna Blaze – often say don't re-tile, just paint over the originals. Ka-ching! The cost of painting my bathroom with the help of the Dulux Renovation Range primer and paint would be about $450. But painting would take a ton of work in a very tiny space.
What about decals?
All you have to do is peel and stick!
Well, I invested $125 in stickers to see for myself … and I shall be returning the last unopened packet. I have two stinging Stanley knife cuts and no stickers on my walls. My botched experiment made me wonder, does anyone get away with DIY tile fix-ups?
Long Listings
A recent SQM report reveals Sydney and Melbourne had the biggest year-on-year annual drop in listings, with a 35 per cent fall. And where old listings are lingering, vendors are likely wondering what to try next – and how much risk to take – to get that sale.
These dilemmas got me thinking about what I would improve, if I were listing in this market – and the room that irritates me most is my gloomy (thanks to grey tiles) ensuite.
Tile Tally
So how much would it cost to replace that tile?
Doing it properly would mean chipping off the old wall tile (which is great fun for about 20 minutes), then replacing the plasterboard (another tradie) and paying exorbitant tip fees that triple if you happen to have a touch of asbestos.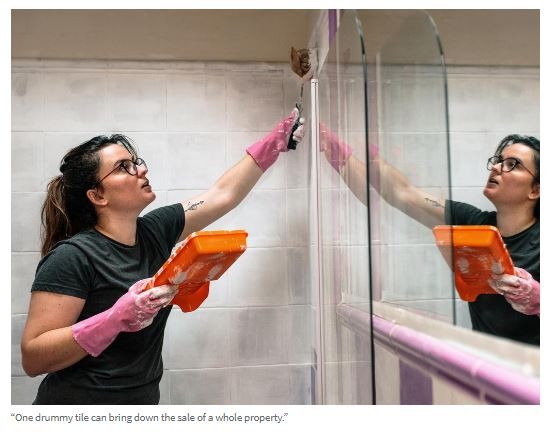 Then there is buying the new tile – at an average of about $50/square metre. And finally, paying the tiler for labour and expendables such as glue, water membrane and grout. Tile labour is roughly $60/hour – and for my ensuite it would take around 12 hours' work. My bill would be about $5000 for an updated, not new, ensuite. Ouch.
Tile Truths
"The old adage 'you get what you pay for', is absolutely true," says award-winning real estate agent Michael Clarke, of Clarke & Hummel, on Sydney's prestigious north shore.
"And there is nothing that can ruin a strong sale price faster than the idea that there has been a botched renovation.
"One drummy tile can bring down the sale of a whole property."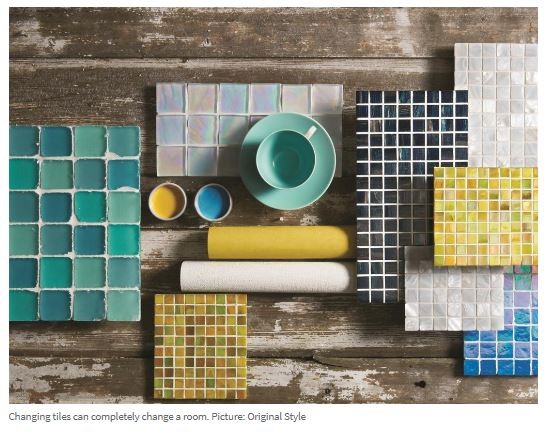 However, if a home is on the market as a reno job anyway, Clarke feels there is a little wiggle room if the dodgy job makes a ghastly bathroom at least liveable for the new owners while they do their remodelling.
"As a broad rule, the largest target markets are the ones who want to do their own reno and the ones who want to do absolutely nothing. Spending money on a cheap reno means you lose out on both," Clarke says.  "You don't want to slip between the cracks – or the grouting, so to speak."
Which leads us to a not often seen Latin expression: venditor sentire. Let the vendor be aware.
Originally published as Home renovation tips: Simple big money savers on your home reno