Today's property market is unlike any other, and is underpinned by many factors. Through my interest in the market I routinely speak with the likes of economists who specialise in property cycles. I thought I'd share with you some recent insights on property here in Brisbane and more broadly around Australia that will – if you're anything like me – blow your mind.
Six per cent up. Property prices saw six percent growth over the June quarter nationally, which is one of the steepest increases in a single quarter on record.
13 year high. Brisbane has seen the strongest rate of house price growth in 13 years. This is a real turnaround after a prolonged period of modest growth.
Melbourne migration. We often talk about the appeal of the Sunshine state to Sydney-siders and Melbourne migrants; the data below tells us that the relocation trend to Brisbane, and in particular New Farm, is real.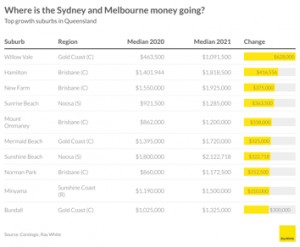 All bar two. In Brisbane, every area is at record highs, apart from the more affordable areas of Ipswich and Logan. But, again, they're also achieving prices fairly close to record highs.
Home run. More homes are selling than units. This year, across the nation, for every unit that was sold, 2.8 houses were transacted. That's much higher than the five-year average. This trend is unanimous across our cities.
Size matters. Buyers are seeking space and that's reflected in the figures. House prices are well outperforming units, and that record price gap shows that buyers are willing to pay a premium for space. When you aggregate the data by price point per bedroom, we're seeing greater rates of growth for more bedrooms. So three and four bedroom houses have seen a more rapid increase in price, compared to one and two bedroom.
Investor visibility. We saw lower levels of investor participation in the June quarter, and investors tend to prefer units. But, that's likely to change. Investors that were on the sidelines due to the uncertainty around our economic outlook, and the fact that there had been such a disruption in our rental markets, have a renewed appetite.
Unit resurgence. We've already started to see unit price growth accelerate over each quarter. The return of investors could help continue to accelerate it further and close that gap between houses and units.
March mayhem. The month of March this year had the most sales on record for a single month across our combined capital cities in recorded history. That was driven by houses more so than units.
Busy start. This year has been the busiest start to a calendar year across our combined cities. We've got house sales hitting record highs in terms of the volume, and unit transactions are back to 2017 levels. They're both transacting at well above the five and 10 year average.
Selling prior. We're seeing higher levels of properties being sold prior to the auction day, due to buyer confidence and competition. Sellers are experiencing shorter days on market.
Travel dollars. Since 2008, more Australians have travelled overseas than overseas visitation to Australia. We've got international borders closed, and that is having a big impact economically on Australia. All of that cash that was being spent overseas is now staying put. The Commonwealth Bank estimated Australians spend about $38 billion on overseas holidays, more than overseas tourists spend in Australia. With borders being closed and the money staying firmly in Australia, we're likely seeing part of that diverted into our homes.
High and mighty. Nationally, on a combined capital city basis, we've got a record high house price at $956,000.
Matt Lancashire